Find out more about the foods that became America's favorites.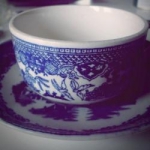 Rose Heichelbech
Chef Boiardi was a real man and he created the revolutionary Chef Boyardee foods we grew up with. But, his name was spelled just a little bit differently back then. In this interesting clip about the canned classics, we get to hear from the chef's great niece about how the concept was formed in his Italian restaurant so many years ago. From an exotic and complicated type of food to one we now cook every week, Italian cuisine has undergone many changes over the past 100 years in the U.S. and we have Chef Boiardi, in part, to thank for that.
Not only was Chef Boiardi a real person, but he was so talented that within a year of arriving in America as a young man, he was directing the catering at Woodrow Wilson's wedding reception in 1915 at the Greenbriar Hotel. This talented man made his way into the homes of nearly every American with favorites like Beefaroni and the always-popular pizza kit. Have a look at the history behind the man and the brand below. And, you can check out 100 years of sack lunches right here.