Rain Doesn't Dampen an Antiques Fair Under the Trees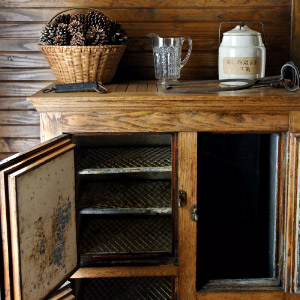 Dusty Old Thing
Hello from Dusty Old Thing. Yesterday we journeyed to Louisville to get to enjoy the wonderful 34th Antiques Market held on the tree-canopied grounds of historic Locust Grove, the last home of George Rodgers Clark. It was raining and the dealers had to protect good examples of early Kentucky, Ohio, Indiana and Illinois antiques, but that didn't dampen their wonderful good humor and a sense of history that we all knew had taken place under those trees.
Locust Grove, circa 1790, is a National Historic Landmark. George Rodgers Clark was the founder of Louisville but is probably best known for the expeditions he led during the Revolution to capture the British-held forts in what was then known as the Northwest Territory. His younger brother was William Clark of the famous Lewis & Clark expedition during the presidency of Thomas Jefferson. Being able to go to an antiques fair on the grounds of a historic home of this age is indeed a treat, despite the warm rain.
One nice thing about any antiques fair is getting to meet really nice and helpful dealers and seeing the wide variety of antiques they bring, even if some of the pieces get loaded into the back of trucks to protect them from the rain. Dealers at outside antique shows and fairs just have that fun spirit of enjoying getting to know people and share the insights they have about antiques. They seem to enjoy the friendships they have with each other, too.
Several wonderful early nineteenth century pieces were under the well-protected canopy of David Taylor Antiques of Owensboro, Kentucky. While this early tambour desk is elegant in its simplicity, we love the creative use of an antique chair back in a shadow-box frame. It did come from a Chippendale chair that had been damaged past the option of repair. Saving and displaying the unbroken chair back shows the beauty of the design and helps create a clean, non-cluttered look. David helps promote a spirit of preservation…so next time something gets crunched by that 300 lb guest or whipped around by a natural disaster…remember that even pieces-parts can be beautiful.
It was very good to get to meet Karen Fults of Signature Antiques in Lakeview, Ohio. Karen is shown here by a very beautiful circa 1790 Hepplewhite tiger maple one drawer stand. It is amazing for its turtle-shaped top. Karen also had an incredible desk with secret compartments…but we'll show it to our Dusty readers at a later time.
One fun couple who brought some colorful painted pieces to the fair were the Jenkins of Jenkins Antiques. They show at Athens Schoolhouse Antiques outside of Lexington. The shutters came, in a set of 12, from "and old mansion outside of Knoxville, Tennessee, that was painted blue-grey and had these shutters on all the windows". The half-moons were original. The small blue and yellow primitive wall corner cupboard comes from Maine, and is dovetailed with some square nails.
Dusty Old Thing would like to thank Rod Lich for encouraging our visit and all the dealers who were there for graciously allowing us to photograph and taking the time to give the history of various pieces…while it was raining. It was a very good day!