Pretty: April 4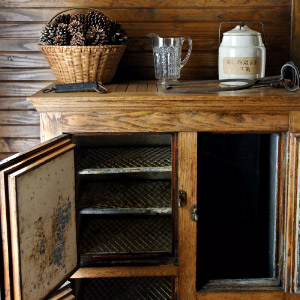 Dusty Old Thing
There are so many antique and vintage finds that can turn a room into comforting and pretty. We've all really enjoyed Monica Taylor's photos posted on our Facebook page. She writes that found this rug for just $25. Isn't it nice, too, to see all the crocheted pieces used as they were intended? Thank you, again, Monica for your posts to Dusty Old Thing. We love your dogs, too!
We'd like to thank David Schwartzfor sharing with us this photo of his Capodimonte collection. Capodimonte, or Capo-de-Monte, pieces always celebrated beauty. It is Italian porcelain, also once made in Spain, that traces its roots back to the mid 18th century in Naples. The King of Naples, Charles VII, had married the granddaughter of the founder of the first porcelain factory in Meissen, Germany, and so wanted to create a Royal factory for his own Neapolitan fine china. It was in production from about 1759 to 1780. When Charles moved to Spain, the factory did, too. It closed in either 1817 or 1834 (depending on the source). Capodimonte continues to be produced in Italy, some with the original molds, and is frequently identified with the intricate flowers and detailing.
Elaine Sloanwrites that she collects micro mosaic jewelry and pill boxes. We love how she uses good porcelain to display them, too. Made in Italy, they became very popular during Victorian times when the tourist trade blossomed in Rome. Some of the earliest and best carried images of famous locales in Rome and had as many as 1500 to 5000 tiny pieces of glass making up the image. Artists in Florence and Venice also had their own techniques. The popularity of the pieces has never waned and they are still being made.
Lupi Cruce writes that she has had this crocheted bed covering, or throw, for over 50 years. Someone had given it to her sister who then gave it to Lupi. It is a beautiful work of art and we'd love to know more about it. The roses are cross stitched. Thank you, Lupi, again for your post!
We always love seeing Sandra Socha's auction "wins". She writes, "Wentto auction yesterday and this lamp is one of my finds. P & A 1886 hand painted oil lamp. I think it is so pretty and Spring looking." It is a beauty!
We'd like to end this segment on "Pretty" this morning with Dottie Hoffman's McCoy. Dottie said that nothing represents Spring better than McCoy florals. We agree.