About 25 miles west of Bangkok stands a truly unique tower.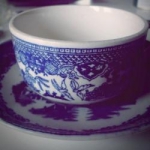 Rose Heichelbech
Wat Samphran is the Buddhist Temple of the Rising Dragon located about 25 miles west of Bangkok in the Nakon Pathom province of Thailand. The 17 story tower is a building you can't miss: the structure is painted pink and features a dragon wrapping around the whole thing. Atop the temple is the dragon's head, a sight that tourists often climb the stairs in order to get a closer look at.
This incredible building was the concept of the temple's founder who came up with the idea in a dream after a 7-day fast. Not commonly featured in guidebooks, this unique temple has often mystified travelers who happened upon it. Take a look at this amazing temple in the video below. And, if you enjoyed this then click the "Next Page" button at the bottom of the page for a look at one of the most colorful temples in India!