This is the perfect way to make a childhood favorite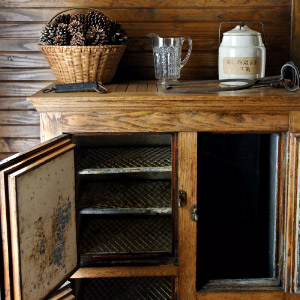 Dusty Old Thing
An offspring of macaroni and cheese–tried and true favorite–this meal is just as warming and yummy, regardless of its many names. Whether you call this dish American Goulash, American Chop Suey, or Beef Macaroni, two things remain: ground beef and elbow macaroni. This goulash is super tasty and perfect for feeding a crowd; plus it's not one of those fussy meals that takes hours to create.
Classically American, it's a knock out form of comfort food, with delicious tomato-infused beef and perfectly cooked pasta. We use tomato sauce and diced tomatoes to make up the sauce, but you can always make your own spaghetti sauce if you are feeling ambitious! We can't think of a single person who doesn't love sitting down to a big plate of this American goulash and we feel pretty strongly that you'll love it too, if you're not already devoted fans!
American Goulash
Serves 6
Ingredients
2 pounds ground beef
1 pound elbow macaroni
2 (15 oz.) cans tomato sauce
2 (14.5 oz.) cans diced tomatoes
1 white onion, chopped
3 cloves garlic, minced
1/4 cup water
2 teaspoons dried oregano
2 teaspoons dried basil
1 bay leaf
kosher salt and freshly ground pepper, to taste
1/4 cup heavy cream, optional
Directions
Bring a large pot of salted water to boil and cook pasta until just al dente. Drain and set aside.
In a large pot or skillet, cook beef over medium-high heat until browned, using your spoon to break it down into smaller pieces.
Add onion and garlic and cook until softened, 5-6 minutes. Drain off excess fat.
Pour in pasta, water, tomato sauce, diced tomatoes, bay leaf, oregano and basil, and stir together.
Lower heat and let simmer for 6-8 minutes, or until pasta is al dente and sauce has reduced and water has evaporated.
Remove bay leaf, (optional: stir in heavy cream,) season with salt and pepper and serve immediately.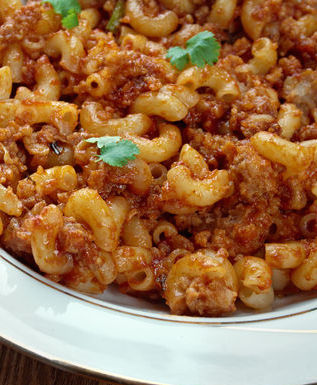 Recipe adapted from Gonna Want Seconds