Each era has its own style.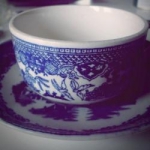 Rose Heichelbech
While every President of the United States has had an office, not every one of them had an Oval Office. This is because the Oval Office as we know it today was only added as part of the West Wing expansion in 1909 at the request of President William Taft. He put out a call for architects to submit ideas to him and the winning one came from Nathan C. Wyeth, who took inspiration from the oval "Blue Room". This room was a reception area that had in turn been inspired by the President's House in Philadelphia where President George Washington had requested an oval room to formally receive guests.
Since Taft's addition many presidents have put their unique spin on the space- but not all. Here's a look back at how much the Oval Office has changed over the past 110 years.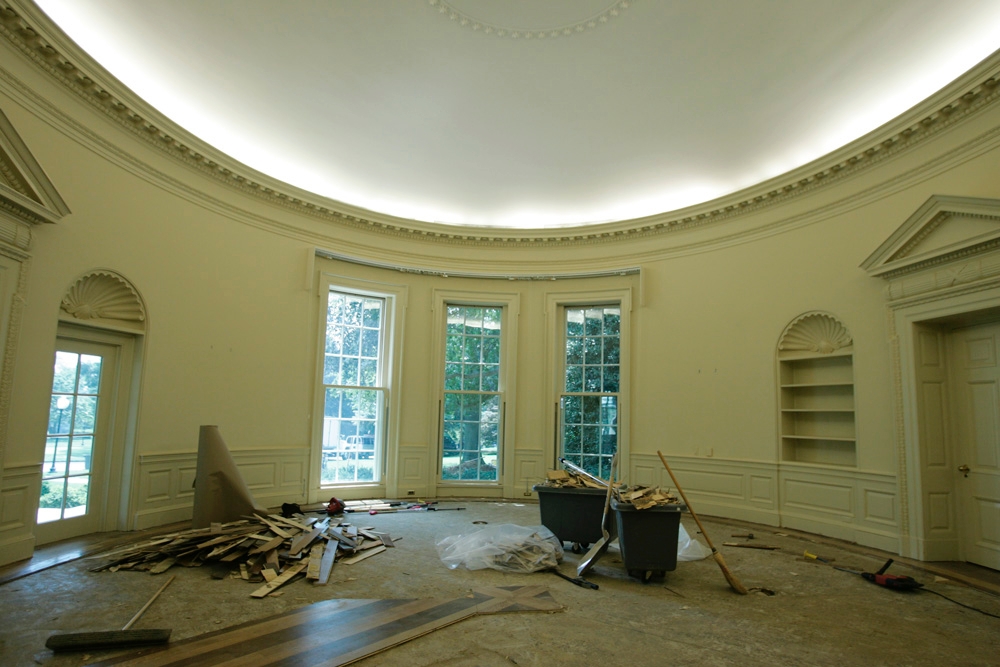 President William H. Taft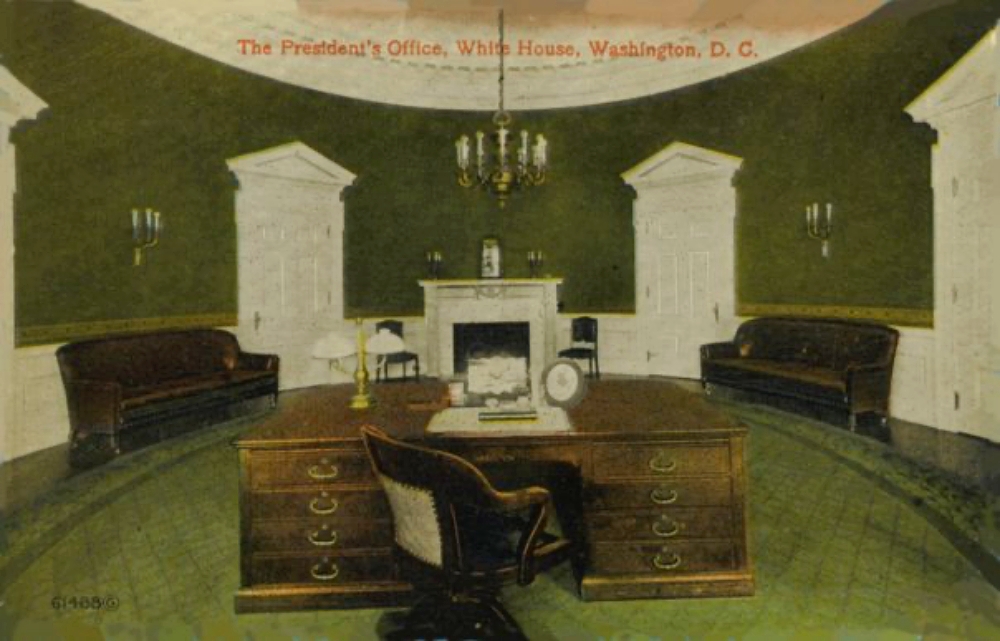 The new Oval Office was carpeted in a dark green trellis carpet and coordinating green patterned wallpaper with an ornate gold border at the chair rail. A double-shade milk glass and brass lamp illuminated his large desk. The Neo-Roman pediments over the doors were painted white, which contrasted against the dark walls. He used the space from 1909 until 1913.
President Woodrow Wilson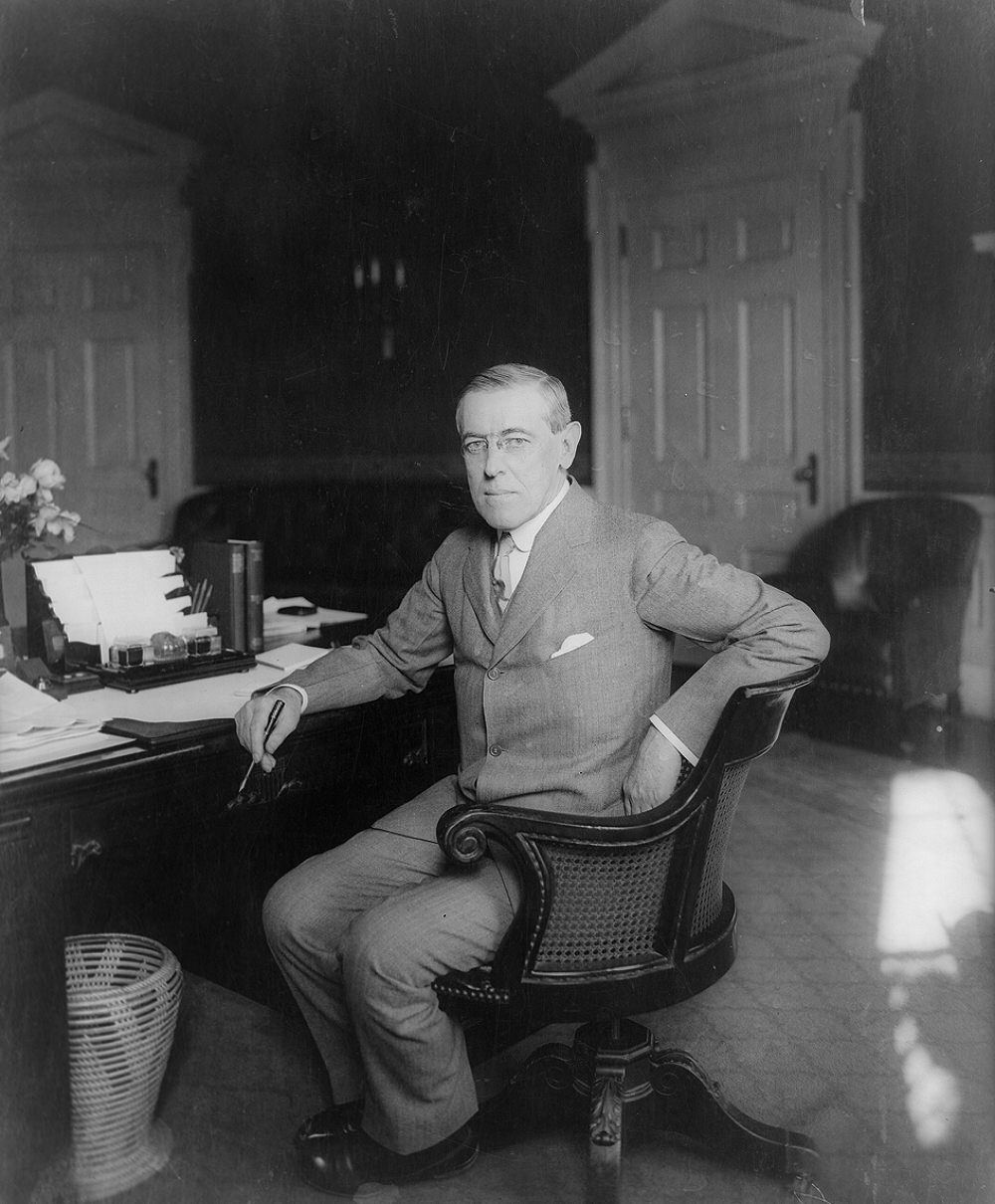 President Wilson was in office until 1921. Judging by black and white photos he appeared to have done almost-nothing to the newly-built Oval Office. He kept the rug, wallpaper, and even the same desk lamp that President Taft had used before him.
President Warren G. Harding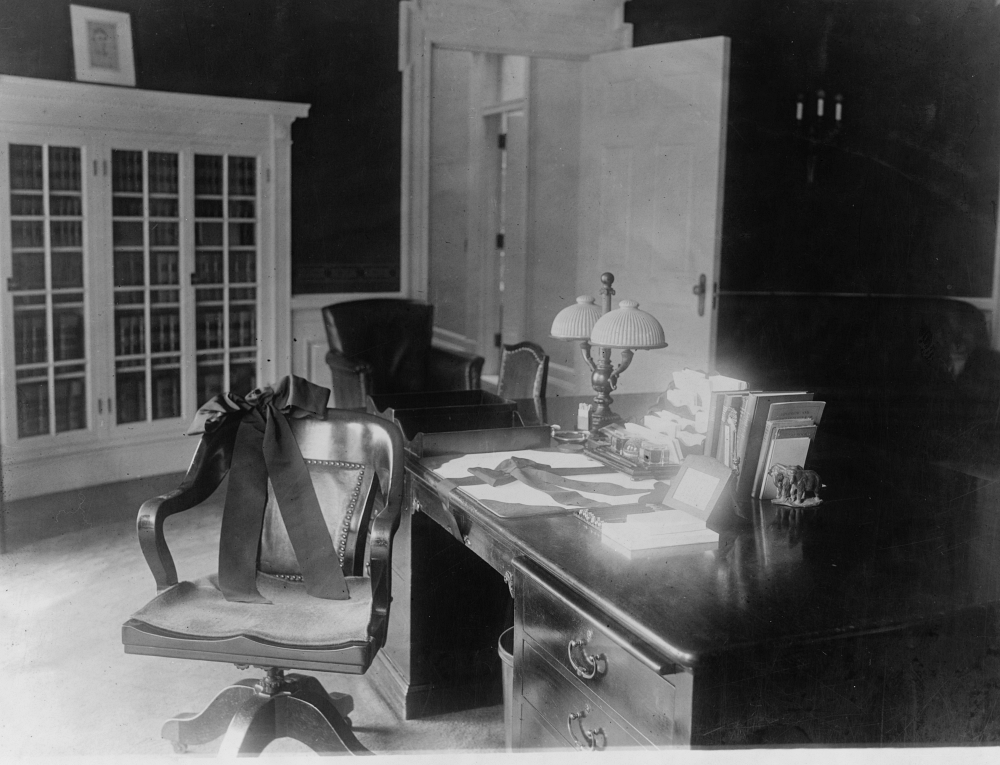 Before his sudden death in 1923 President Warren G. Harding did little to alter the Oval Office, which is seen here with black ribbon tied across his desk pad and chair less than a week after he died. He was in office for only 2 years.
President Calvin Coolidge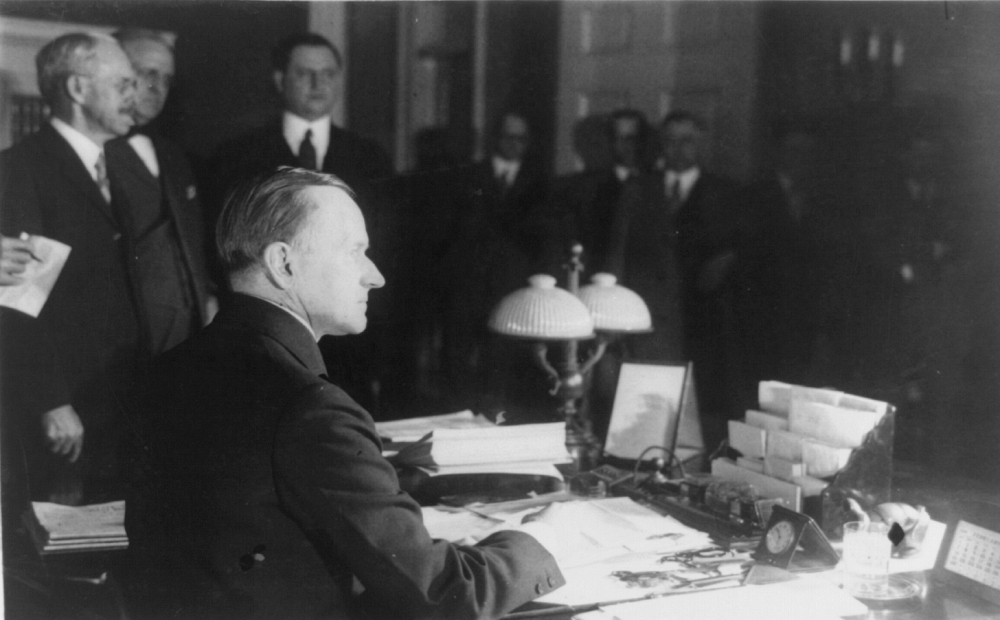 President Calvin Coolidge was in office from 1923 until 1929, during which time he kept most of the furnishings and decor, including that same desk lamp President Taft used.
President Herbert C. Hoover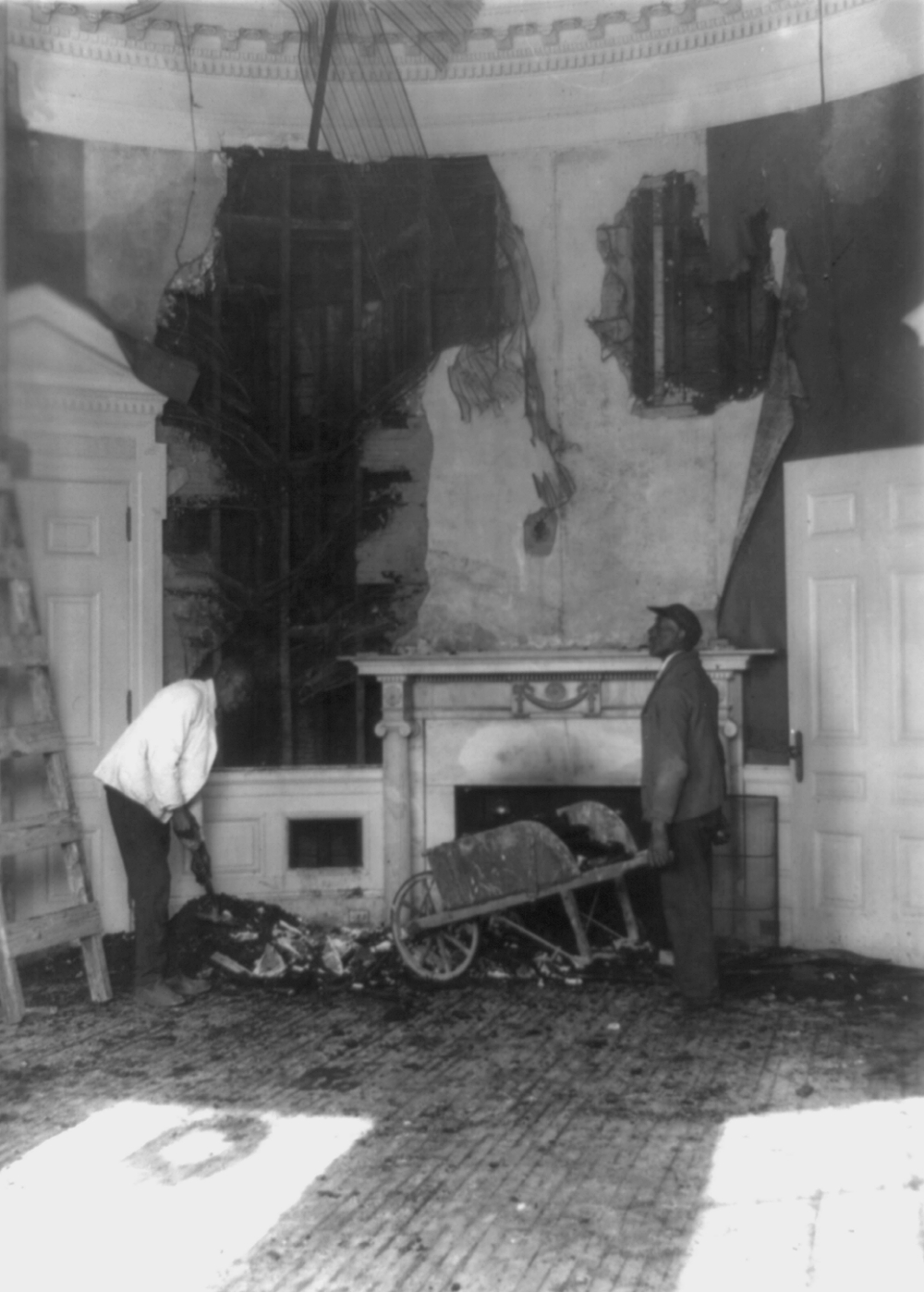 A fire at the White House in 1929 damaged the Oval Office and much of the West Wing, such that it had to be rebuilt. During President Hoover's term he was using another office entirely while the building was being reconstructed.
President Franklin D. Roosevelt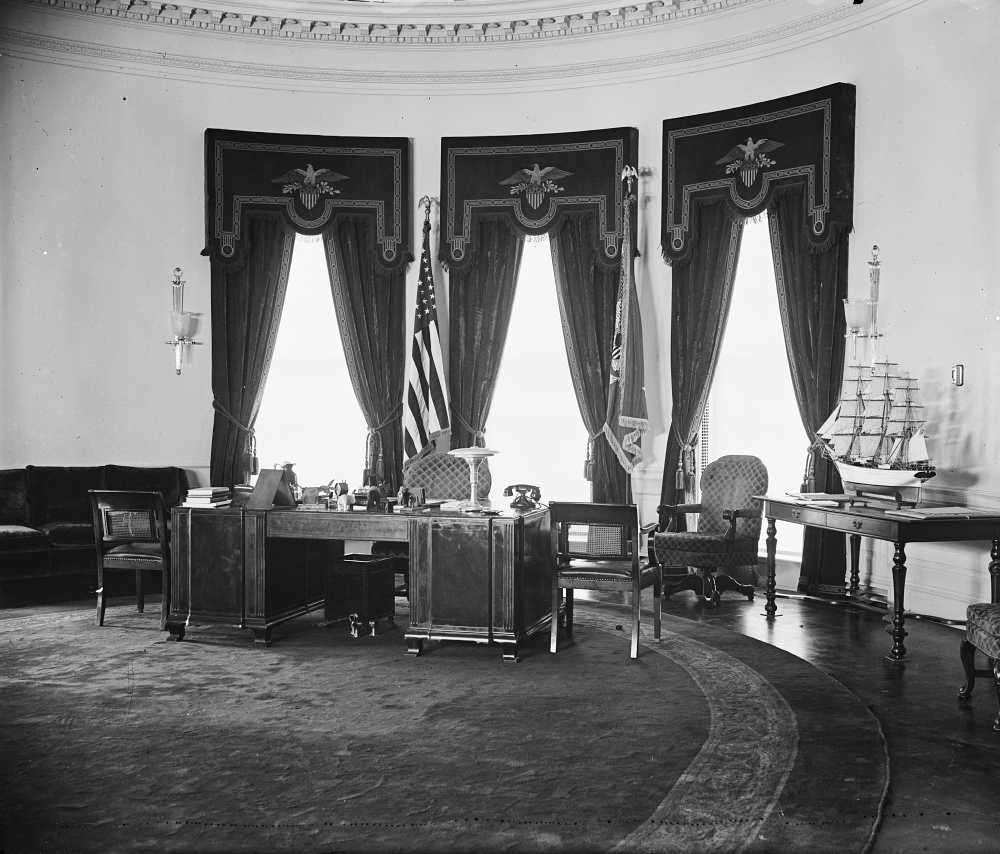 In 1933 President Roosevelt had the Oval Office moved to the corner of the West Wing and enlarged it so he could access it better in his wheelchair. At this time he also redecorated, adding in the rich, heavy drapery of a style that would remain popular with all the following administrations. The drapes featured pelmets emblazoned with eagles. He also added chairs in the fashion of the Second Empire and Art Deco sconce lights for a mix of styles that redefined the space.
President Harry S. Truman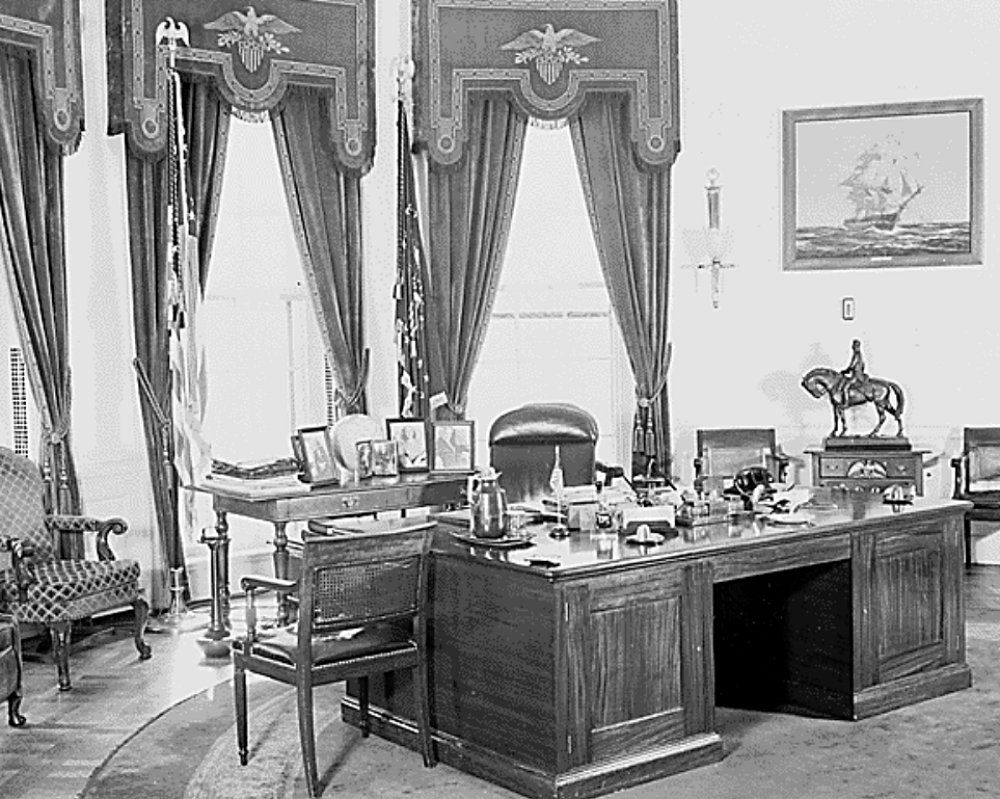 After the death of President Roosevelt during his historic fourth term, President Truman changed little about the room, save for some of the art. For instance he replaced a model of a ship with a painting of a ship and a statue of a horse underneath it. Under President Truman much of the structure of the White House was rebuilt with more modern materials, but the Oval Office was still quite new and went largely untouched.
President Dwight D. Eisenhower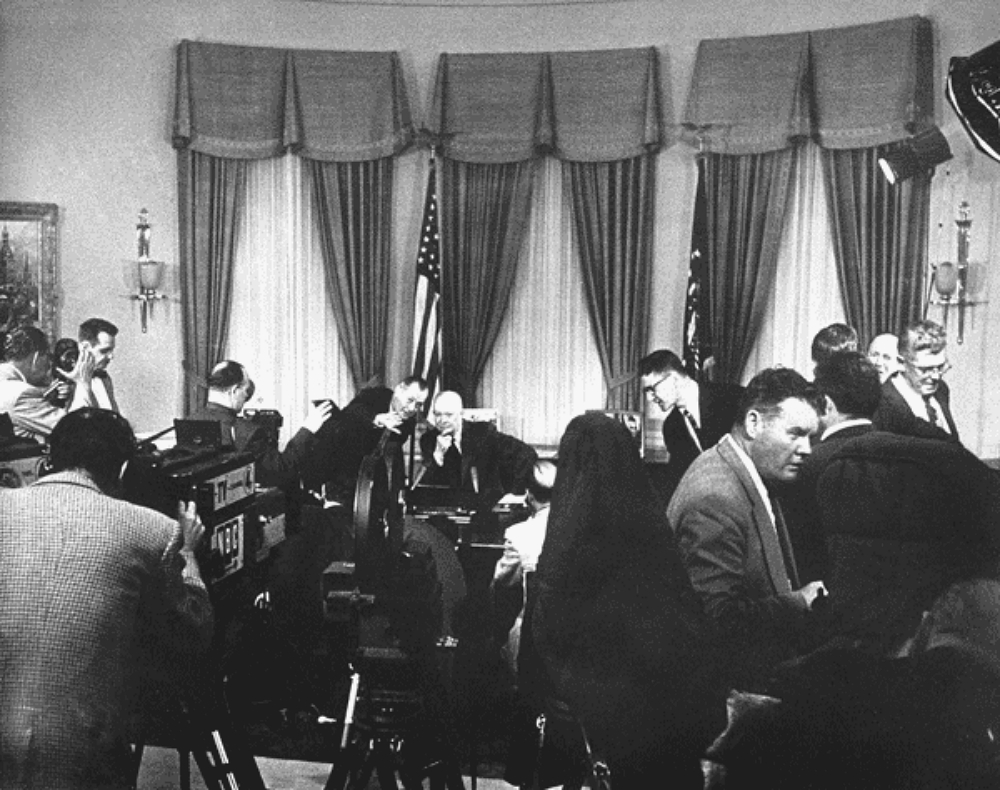 First Lady Mamie Eisenhower initiated many changes to the living quarters and reception rooms of the White House, but the Oval Office retained much of it's 1930s decor. In photos you can see that the Art Deco wall lights are the same ones that President Roosevelt had installed in 1934. The drapes and the artwork are different though.
President John F. Kennedy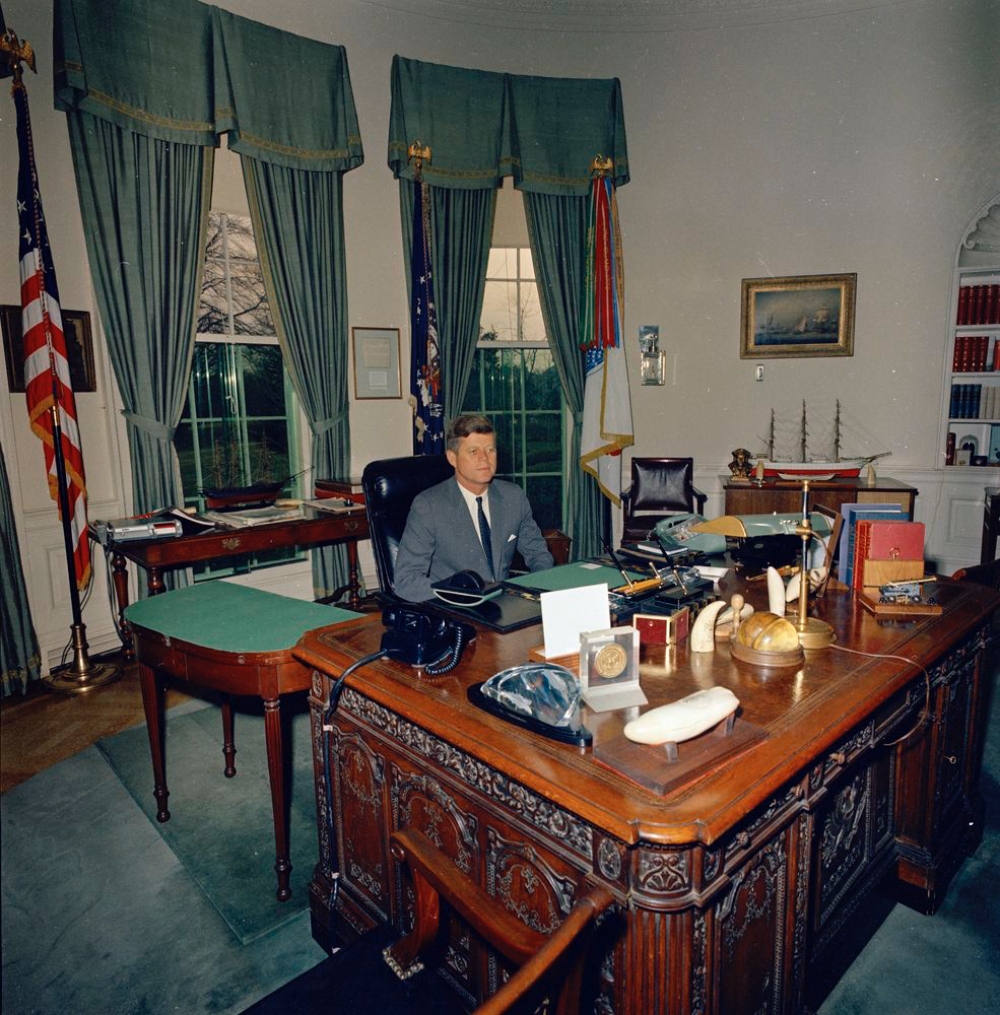 When President Kennedy came to the Oval Office he kept the duck-egg blue drapes of Eisenhower era, but he added an important element that POTUS' have been using ever since: the Resolute desk. The ornately-carved piece of furniture was gift from Queen Victoria to President Rutherford B. Hayes in 1880 and is made from the timbers of the HMS Resolute. It had been used by nearly every POTUS since Hayes, though not always in the Oval Office.
President Kennedy had a plinth built to raise the desk slightly so that it would be more comfortable for him to sit at. Subsequently the desk has been used in the Oval Office by Presidents Carter, Reagan, Clinton, W. Bush, Obama, Trump, and Biden.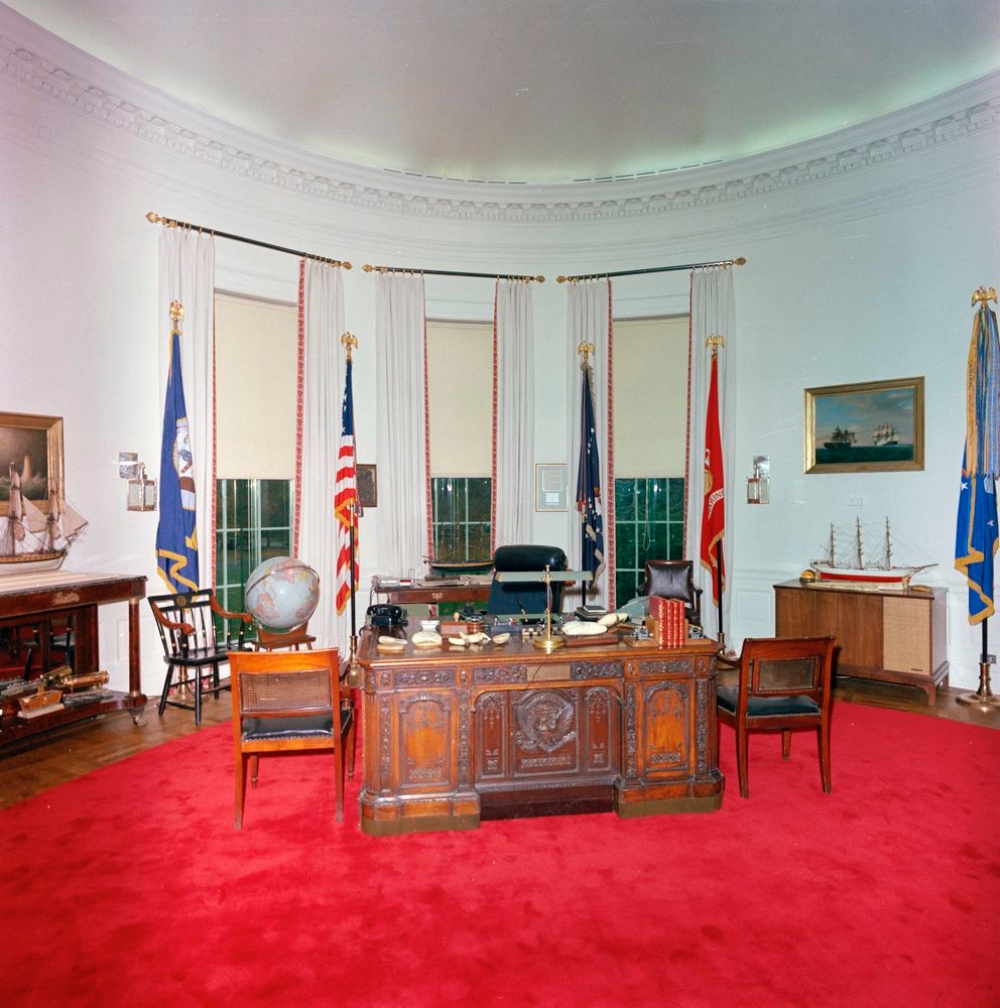 Prior to his trip to Texas in November of 1963, the Oval Office was in the final stages of being redecorated. Had President Kennedy not been assassinated this is the office he would have come back to- a red and white affair with simple drapes and much of the same furniture that other POTUS' had used.
President Lyndon B. Johnson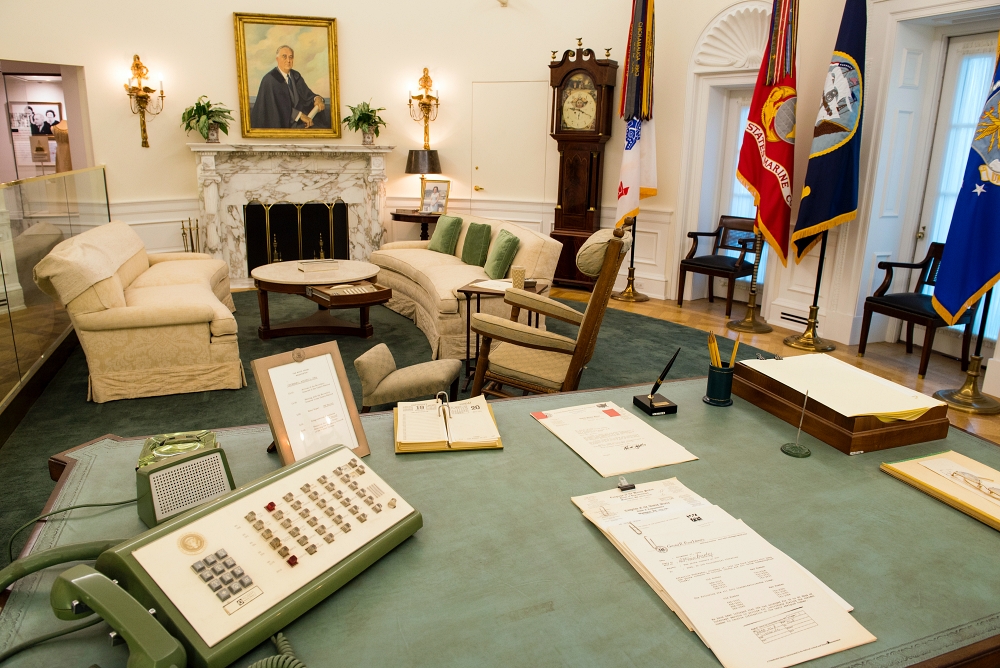 In the years following President Kennedy's assassination President Johnson kept the brand new cream curtains bordered in gold, but changed the carpet to green. He also added updated features like a very large multi-line phone system and commode with three televisions from which he watched the breaking news of the assassination of Martin Luther King Jr.
President Richard Nixon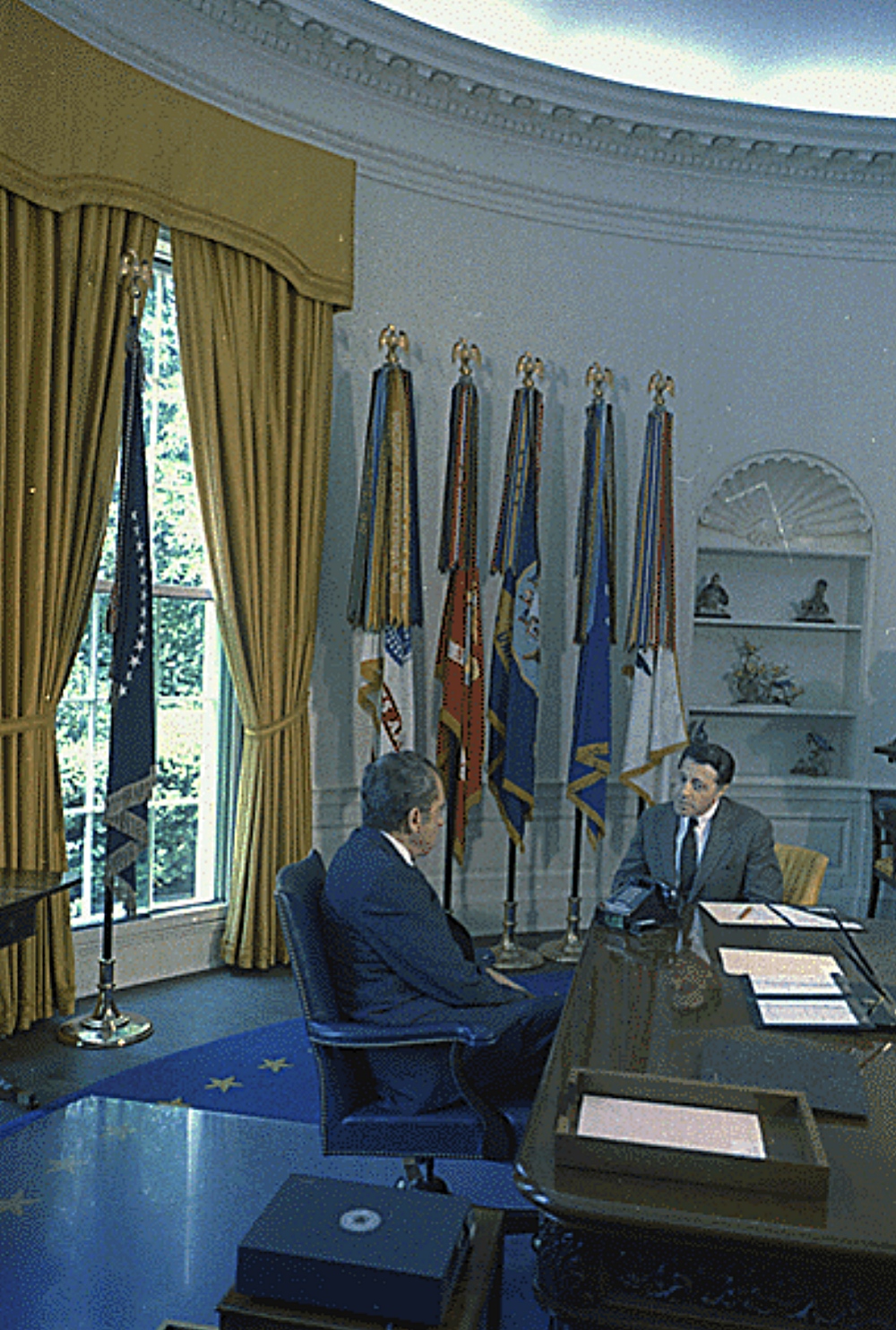 President Nixon's Oval Office was themed around royal blue and gold, with a blue rug and gold curtains. The two sofa matched the drapes in their intense gold yellow color. Nixon used the Wilson desk, a piece of furniture he famously had 5 recording devices installed in with which to record his conversations. The release of these recordings in tape and transcript formats went on to erode public faith in the president and he resigned in 1974 before the end of his very public impeachment process.
President Gerald R. Ford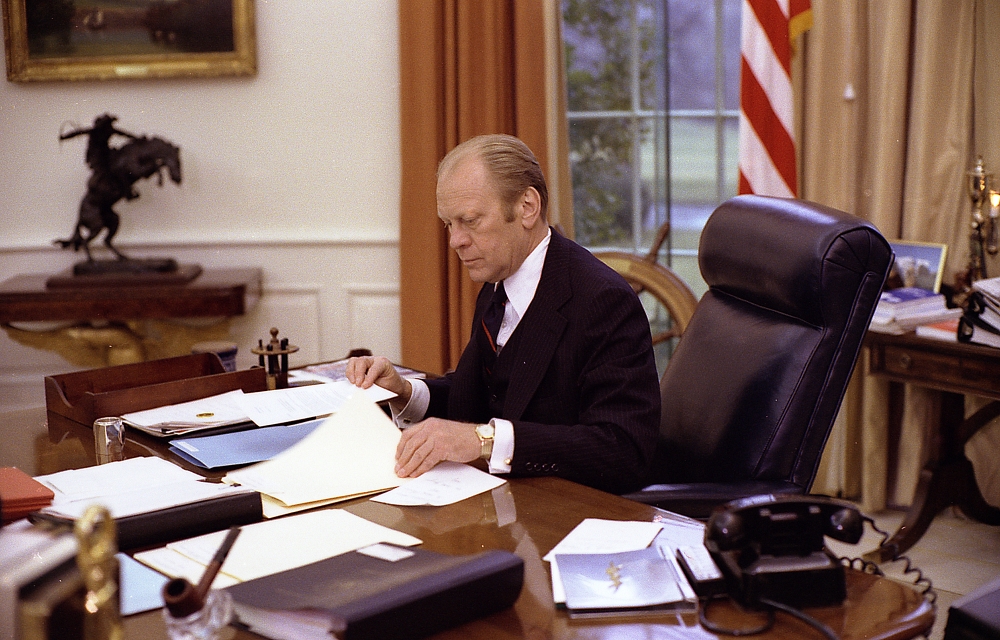 President Ford changed the drapes from the intense yellow color of Nixon's tenure to a mixture of rust and beige panels. The carpet he had changed to a lighter color than the dark blue of his predecessor. The artwork was changed to themes of cowboys, with some nautical elements. At some points in his time in the Oval Office, President Ford also used a spare piece of carpet under his desk instead of the plastic protector that other presidents had used. This was so that his dog, Liberty, could comfortably sit just at his feet while he worked. President Ford also used the Wilson desk, erroneously-named since President Wilson never did use it.
He only served three years since he had to take over when Nixon was impeached and he did not win re-election.
President Jimmy Carter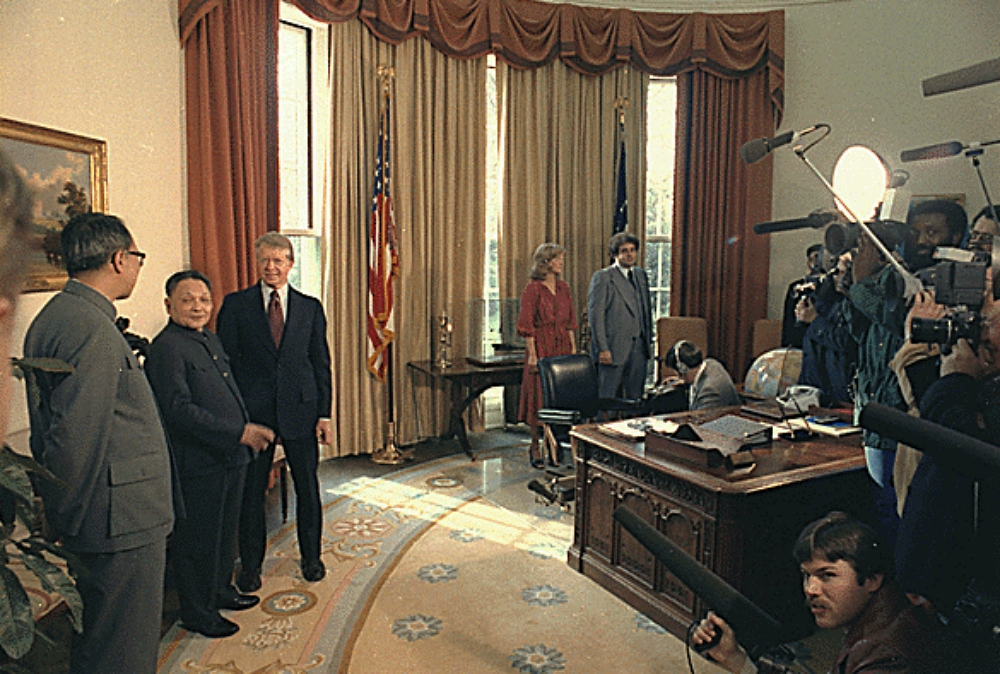 President Carter made very few changes to the Oval Office during his one-term presidency and kept the two-tone curtains and the beige carpet with blue flowers that Ford had installed.
President Ronald Reagan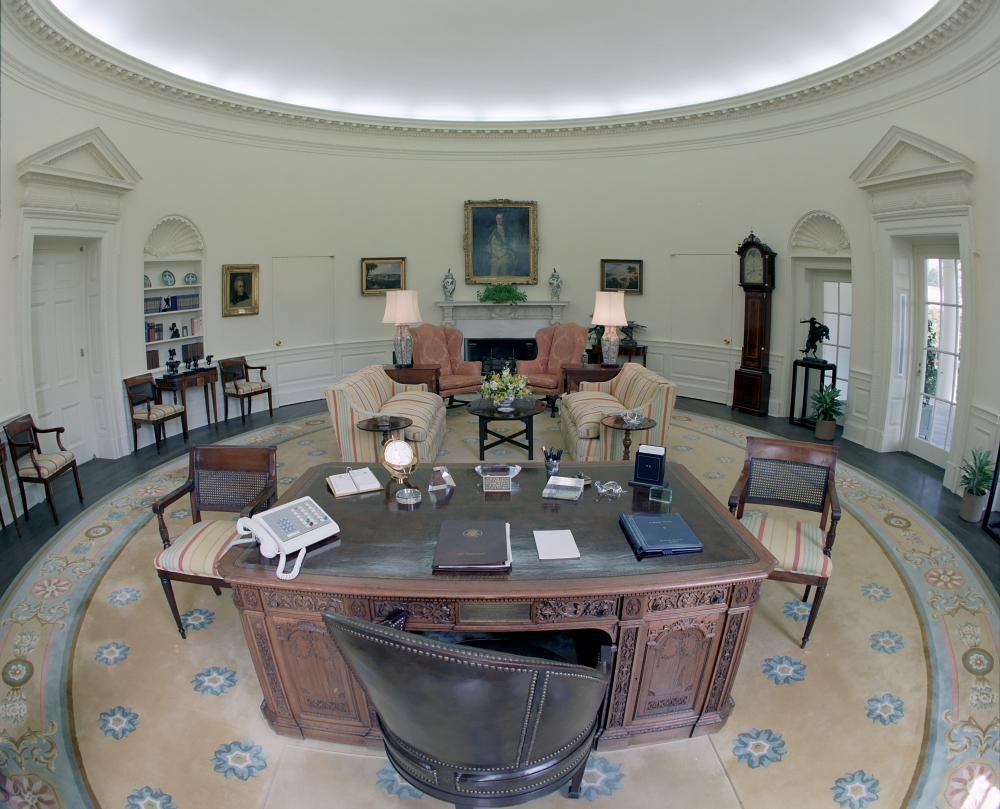 During his eight years in office President Reagan kept much of the same decor that had been installed by President Ford- including the drapes, carpet, wing chairs, and striped sofas.
President George H. W. Bush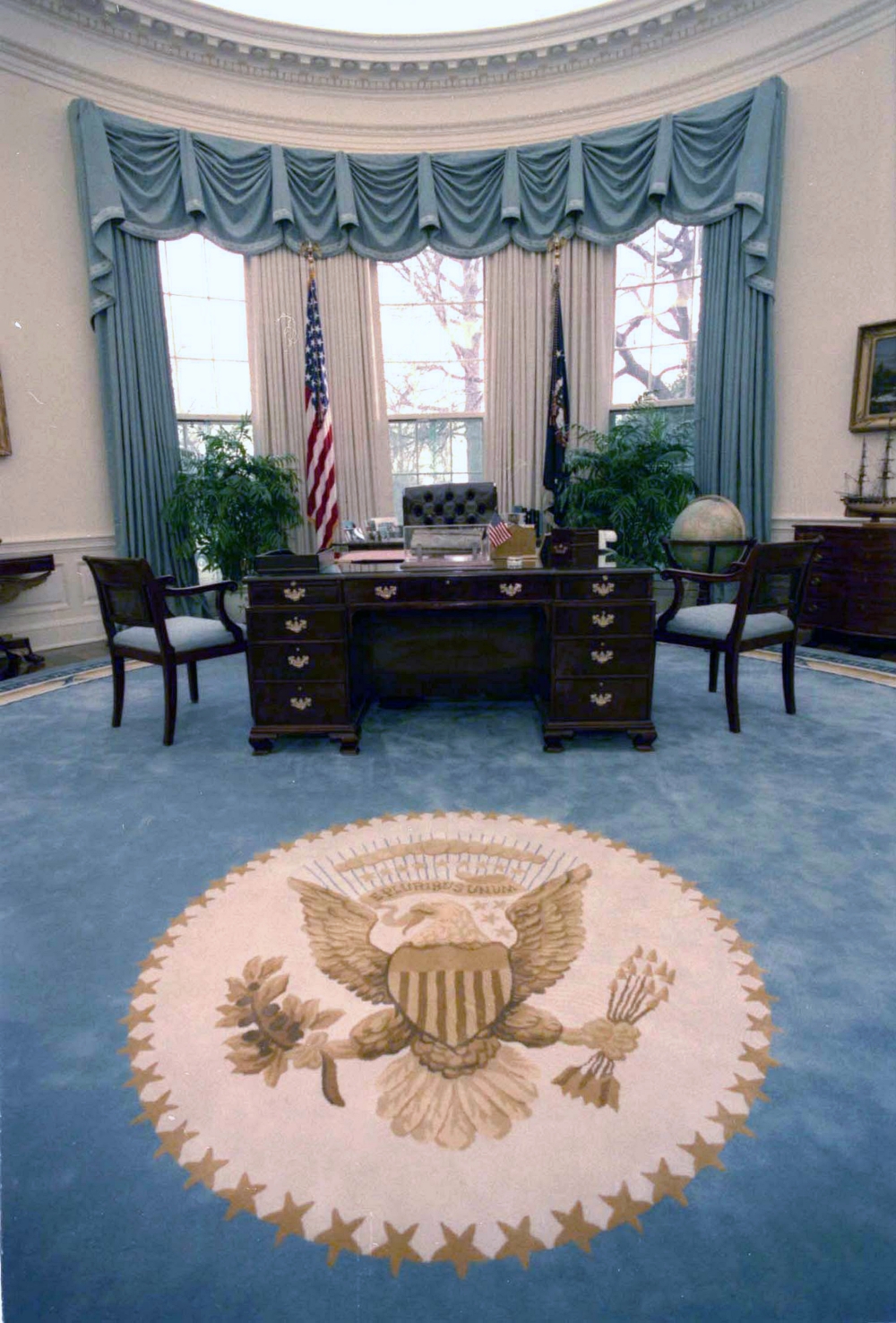 President Bush went with a cream and steel blue color scheme for his term in office and used the C & O desk, a 1920s reproduction of a Chippendale desk originally made for the owners of the Chesapeake and Ohio Railway. It was later donated to the White House and was only used by President H.W. Bush for one term, making it the shortest-lived Oval Office desk.
President Bill Clinton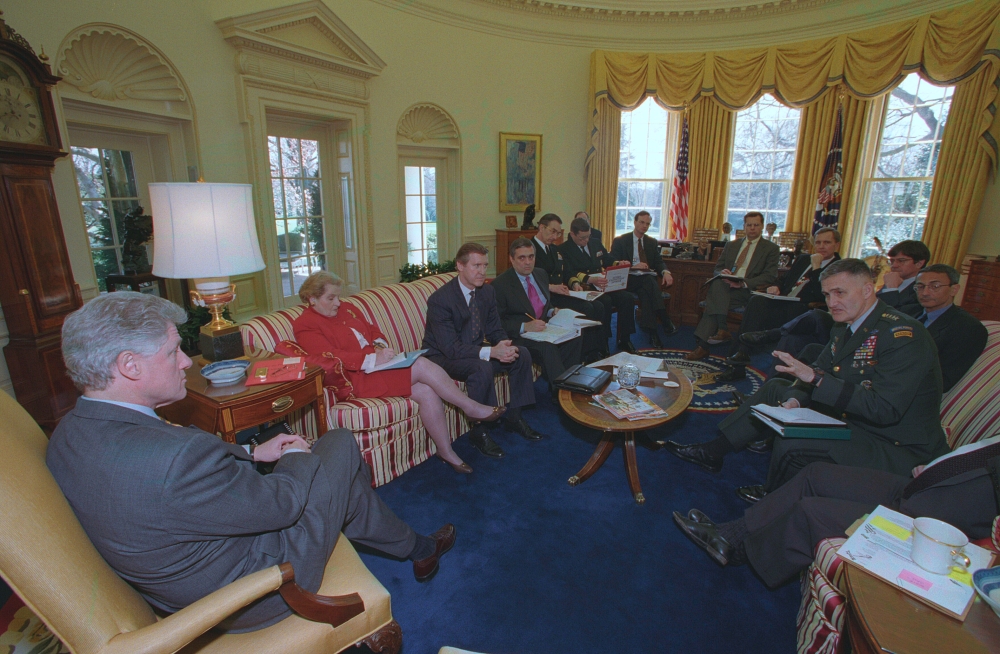 President Clinton chose bright gold drapes, a rich navy rug, and peppermint striped sofas. One of the most famous pieces of artwork in his Oval Office was a bronze bust of Martin Luther King, Jr. made in 1970 by Black sculptor, Charles Alston, and given to the Smithsonian Institute who lent it to the White House on long-term loan. This marked the first time that an African American image had been publicly-displayed in the White House.
President George W. Bush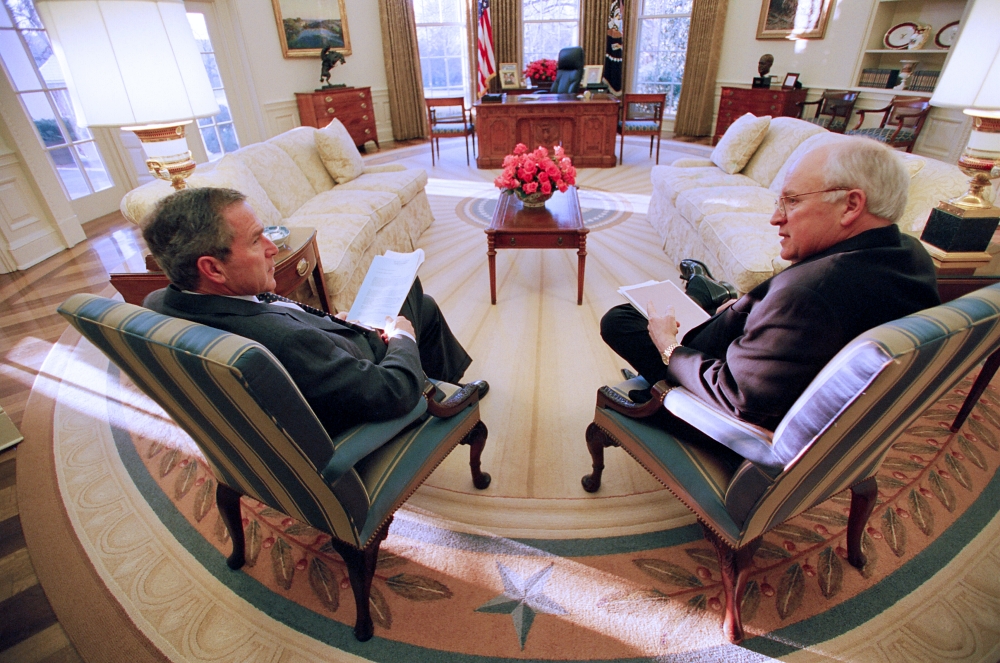 President George W. Bush's Oval Office contained a lot of pastel hues, but also featured artwork of cowboys, including a painting of a horse thief by WHD Koerner that was once reproduced in The Saturday Evening Post. However, much of the rest of the decor choices were delegated to First Lady Laura Bush, who wanted a "sunny" room that "showed an optimist worked there". To that end the rug depicts rays that shine outward from the central seal like sunshine and a laurel around the edges representing the First Lady. The colors of bronze, ecru, and forest green feature heavily in the room.
President Barack Obama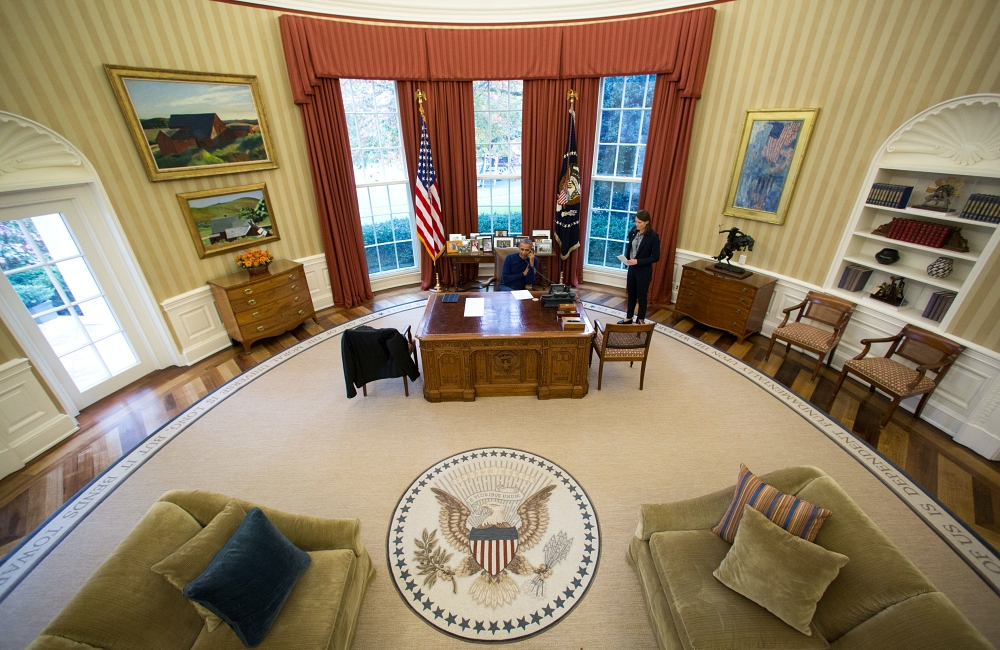 President Obama's first term he kept much of the older decor. But, his second term Oval Office featured olive green velvet sofas and rust-colored drapery. He also broke from tradition by wallpapering the room in stripes, the first time this material had been used in the space in decades.
President Donald Trump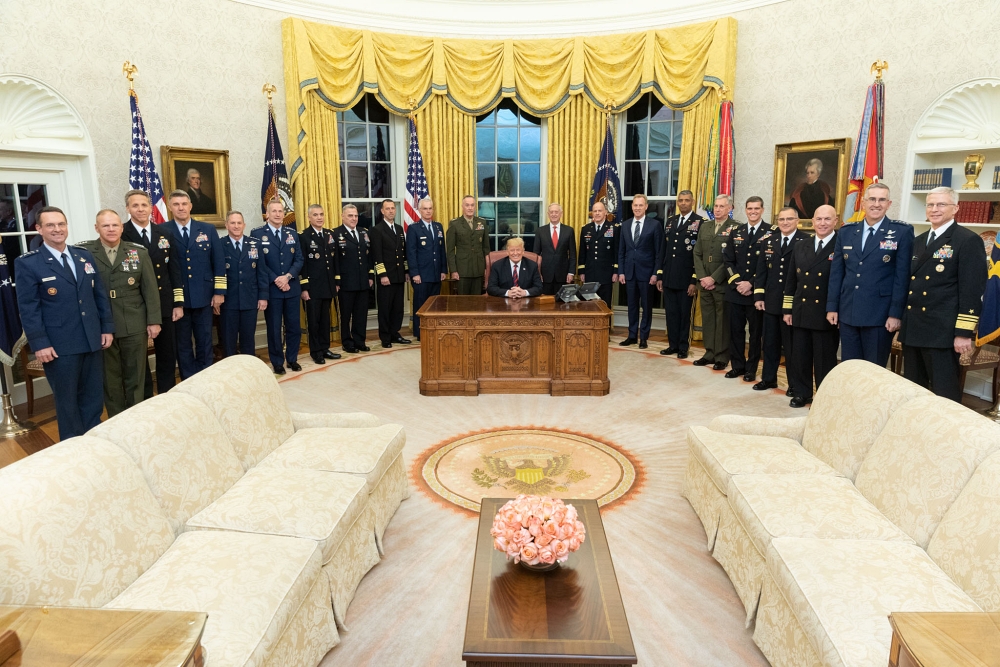 President Trump kept most of the colors neutral, bringing in a cream damask wallpaper. But, the drapery was a throwback to the Clinton era as the 42nd POTUS had used the blue-trimmed gold curtains in his oval office two decades before. He reused the cream damask sofas from President George W. Bush's Oval Office as well.
President Joe Biden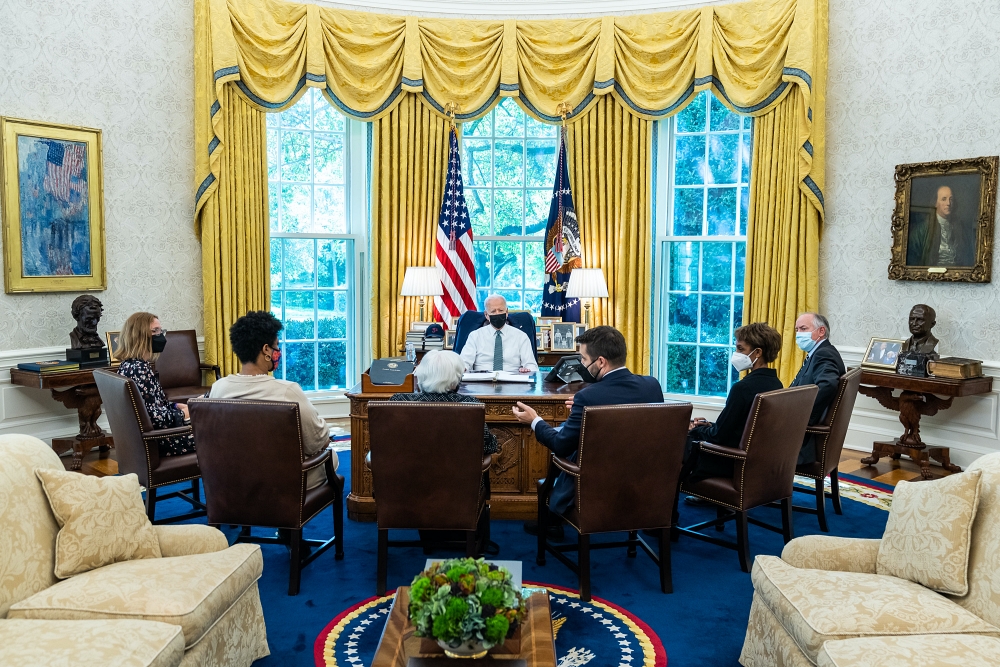 The 46th POTUS also brought back the cream damask sofas from President George W. Bush's time in the White House, and kept the Clinton-era curtains, too. He also installed the royal blue rug that President Clinton had also used in his oval office and added more artwork in the form of both wall pictures and sculptures.