It's like a fairy tale come to life.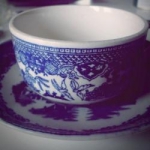 Rose Heichelbech
Maybe you've seen those tiny fairy doors attached to trees. They bring a little wonder into the everyday and reveal a world where fairies just might really exist. But, one artist in Sweden has taken that concept and transformed a basement window into a tiny, magical street scene for mice. It's like a children's movie come to life! This miniature world sets the imagination running and is chocked full of realistic details like graffiti and food for sale. Have a look at the anonymous "anonymouse" street scene that popped up recently in Malmö, Sweden.
So far there are two tiny shops in one basement window, but the scene garnered a little help from the public when an observer added posters to the scene. What a fun project that's getting a little help from passersby!
The artist, "anonymouse_mmx," also posted images of the scene being built and the tiny signs in the door and the minuscule tiles are just too perfect! This is truly a project from the heart.
The hours and thought put into this project are obvious in everything from the distressed finished to the tiny food. It almost seems like you could just walk in and order a tasty snack- if you were a hungry mouse, that is! For more tiny treasures check out these vintage dollhouses from our readers.