The story of how these four got together is nothing short of fate!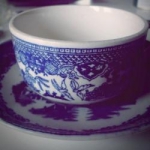 Rose Heichelbech
What happens when some of the most talented performers of the era get together for a sing along and jam session? Well, the result is one of the most wonderful sounds you could ask for! The Million Dollar Quartet was the side project of Johnny Cash, Elvis Presley, Carl Perkins, and Jerry Lee Lewis. It's hard to believe one room could hold all that talent. In 1956, Sun Records artist Jerry Lee Lewis was brought in to help round out the sound on a recording session for Carl Perkins. The story goes that Elvis (a former Sun Records artist) just happened to pop in to pay a visit to the staff, as did Johnny Cash. They recorded an impromptu session together which was only later named the Million Dollar Quartet. How's that for a little slice of heaven?!
Listen to this phenomenal group performing "Just a Little Talk with Jesus" and prepared to be blown away! And, you can hear one of Elvis' early recordings right here.