We had totally forgotten about some of these.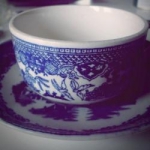 Rose Heichelbech
Just seeing vintage cereal packaging and toys reminds us of being a kid again. For Robb Berry in Duluth, Minnesota, the feeling goes beyond nostalgia into collecting and he has thousands of vintage cereal boxes! In this interview with Berry we get a glimpse of the old designs of our favorite brands, but we reallylove seeing some of the cereals we enjoyed as kids that are simply no longer in production. These breakfast cereals seem kitschy and sugary by today's standards, but at the time we couldn't get enough. You could say that it was our golden age of cereal!
If you have a soft spot for your childhood days or remember eating cereal in front of the TV on Saturday mornings like we do, then watch the video below for a glimpse of one collector's treasury of thousands of pristine vintage cereal boxes! And if you loved this then click "Next Page" at the bottom of the page for some of the snacks we'll (sadly) never see at the grocery store again!