You can really hear what a beautiful voice she had in this wonderful scene.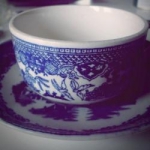 Rose Heichelbech
There is something so magical about the old black and white films, especially when the actors would sing and dance. This clip from Dance, Girl, Dance (1940) is certainly no exception! Watch as Lucille Ball steals the show as Bubbles/ Tiger Lily White, a performer gunning for her own piece of the pie, who sings "Jitterbug Bite" and dances with skill. Ball's performances in this film are truly amazing.
I Love Lucy fans have often been under the impression that she did not have a beautiful voice because of how she was presented on the show. She had to be the opposite of Ricky in some ways and her voice was always made to seem shrill, flat, and unrefined. But, it is her early films which show us just how sweet her voice is. In this wonderful clip her voice is not dubbed and we can really hear what a talent she truly was. Ball's fierce and feisty attitude give this character an extra ooomph, too. Have a look at one of the best scenes from one of the best Lucy movies ever.