Seeing their apartment in color is just…wow!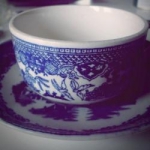 Rose Heichelbech
Debuting to extremely high ratings and strong viewership in 1951, I Love Lucy would go on to become America's #1 TV show. The iconic scenes and impeccably-timed gags gave were some of the funniest on TV -even to this day! Most of us have never seen any part of the show in color. But, this very special footage from the 1st season it just delightful.
Home movie footage shot by an audience member shows what the sets really looked like! We get to see their apartment in stunning color. The clips are mixed in with scenes from the broadcast version so you really get a feel for how it all worked together. The sets are more colorful than might seem necessary, but that's because sets produced for black and white had to "read" on camera properly and that meant a specific combination that might have seemed over-the-top had it been filmed in color. Have a look below at this wonderful color footage! And, you can view another great clip of Lucy right here.