As usual she gets more than she bargained for!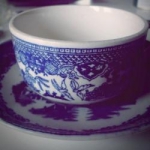 Rose Heichelbech
We don't usually think of Lucy as a splendid cook, as most of the episodes of I Love Lucy that feature her anywhere near food usually end in complete disaster. But, when she tries to cook the fun really gets started!
Even so, it's wonderful to see her kitchen all decked out with the cooking implements we remember from childhood: the metal coffee pot, the Sunbeam mixer, and the crank coffee grinder among others. And, with Ethel's help, she's trying to make something that I remember very fondly growing up- homemade bread! If you've ever made it at home then you'll know it does take some practice to get a recipe down just right. With typical Lucy flair, the bread-making develops into an epic task. And, of course, Lucy and Ethel both end up covered in flour.
Have a look at this hilarious and heart-warming classic Lucy clip below. And you can check out more of the iconic I Love Lucy kitchen right here.