I've always loved this this song!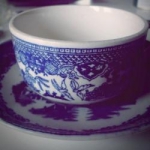 Rose Heichelbech
This top ten hit was the breakout song of 1970. The British band Edison Lighthouse came on the scene strong with their first hit in the first year after they formed the band. If there's any song that takes us right back it's this one- "Love Grows (Where My Rosemary Goes)." The band may not have had many other hits, but this song is legendary on its own.
And, speaking of which, remember when the skirts were as short as could be and still be called clothing? We remember- long hair, scarves, fringe, and cut-outs were among the many daring fashions on the menu in 1970. And this video is full of prime examples of these fashions (gold lamé polka dot backless jumpsuits anyone?). Have a look and a listen to this classic song one more time in the wonderful video below. And, be sure to check out one of the greatest pop songs of all time right here.