We did a little research and found seven amazing examples that we wanted to preserve and share with you.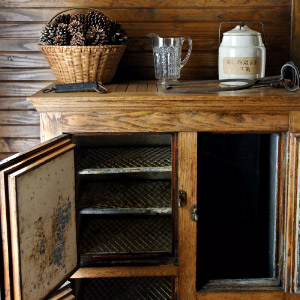 Dusty Old Thing
Have you ever wondered about the large mansions that likely once stood in place of the towering skyscrapers of New York City? We did a little research and found seven amazing examples that we wanted to preserve and share with you.
The William Kissam and Alva Vanderbilt house at 600 Fifth Avenue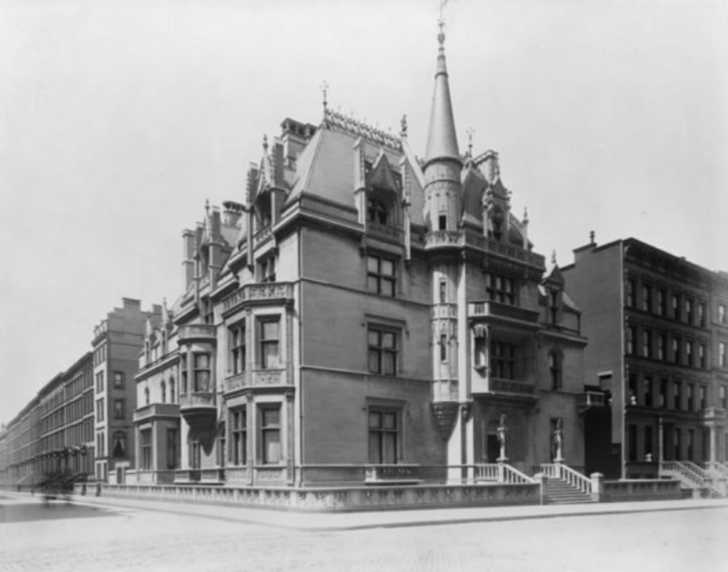 Rumor had it at the time that William Kissam wanted to make his wife truly happy, so he gave her an almost unlimited budget to build the first Beaux-Arts mansion with a limestone facade in New York. Alva was so proud of her home that in 1883, she threw a Masquerade Ball with a guest list of 1000 people and a cost of $3,000,000. Sadly, a 41-story office tower now stands in its place.
The Tiffany Mansion at 72nd Street & Madison Avenue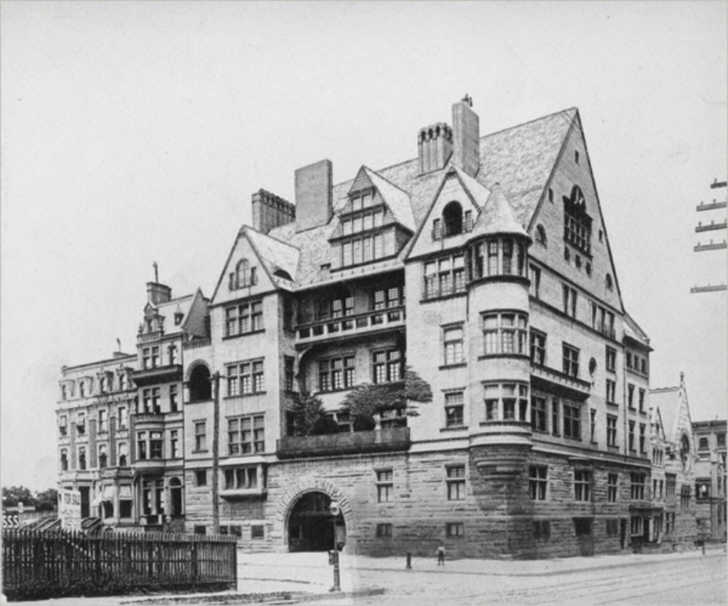 Known as one of the most magnificent mansions of all time, The Tiffany Mansion opened in 1885 with a whopping 57 rooms. Though it was originally intended for the entire Tiffany family to move in, only two of the members' family moved in — and what fun I bet they had! The building sadly succumbed to a wrecking ball in 1936 as developers were clamoring for more land in this hottest of neighborhoods.
The Cornelius Vanderbilt Mansion at 57th Street and Fifth Avenue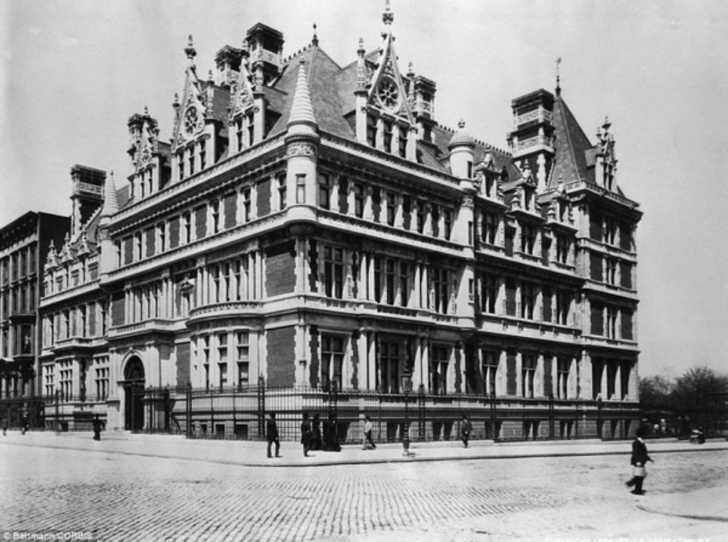 You hear the Vanderbilt name all over New York, because they certainly didn't skimp on their real-estate. Indeed, this sprawling mansion was so large that it was the largest mansion EVER built in New York City. It encompassed the entirety of 57th-58th Street overlooking Central park and had 130 rooms. Yes – 130 rooms! This grand palace fell in 1926 as developers demolished it and replaced it with commercial space.
The Josiah Fiske Mansion of 884 5th Avenue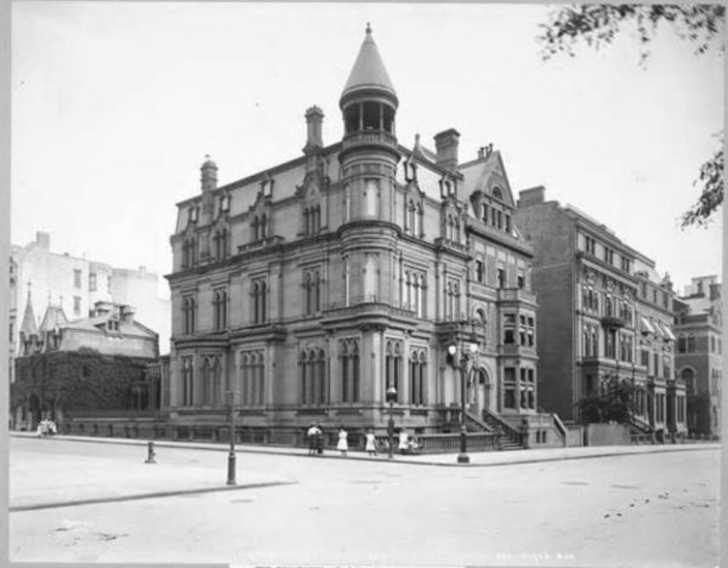 Josiah Fiske was a young flour entrepreneur in 1850 and moved from Boston to NYC to grow his business. By 1875, he was one of the city's wealthiest. He and his wife bought an open plot and built a mixed-styled mansion that stretched 33 feet along 5th Avenue and 175 feet down 70th Street. The building was ultimately sold at a discount by a widowed Ms. Fiske in 1912 and demolished in 1914, now replaced by a 14-story apartment building.
Mrs. Astor Mansion at 65th and Fifth Avenue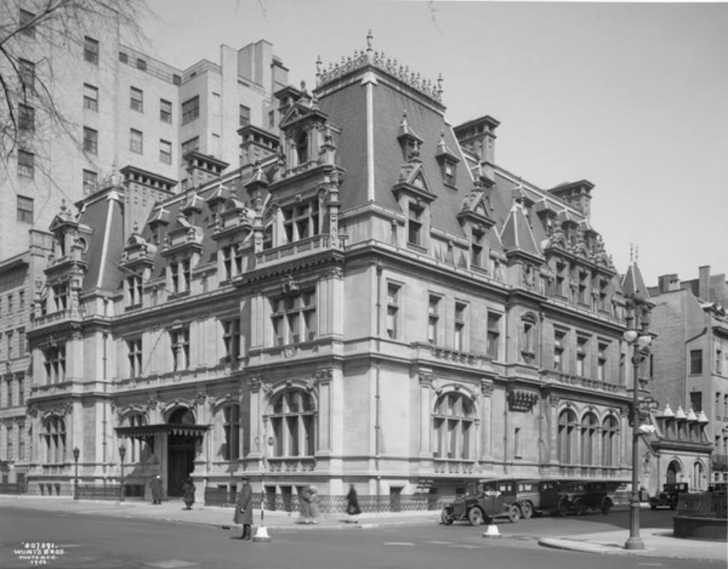 If you ever wanted to know where the true Society of New York gathered, it was here at the sprawling Astor Mansion at 840 Fifth Avenue. Inside it's hulking exterior that supported 50 rooms was a ballroom that could regularly host the top 400 or 500 elite members of NY Society. Mrs. Astor would ultimately die of old age and her son, John Jacob Astor IV died on the Titanic. The mansion was thus sold and torn down in 1926.
The Triple Palace at 640 & 642 Fifth Avenue
Getting back to the Vanderbilts, Cornelius Vanderbilt was considered "new money" and therefore estranged from New York's high society. The next generation of Vanderbilts changed all of that by building many of the most interesting and provocative mansions in the city. After William Henry Vanderbilt inherited his father's fortune, he sought to build "three modest dwellings" for himself and his two daughters. These three connected homes ultimately became the place for wild parties all throughout the 1940's. The mansions met the wrecking ball in 1944 as the War was coming to a close. An H&M stands in its place now.
The Schwab Mansion at 73rd Street & Riverside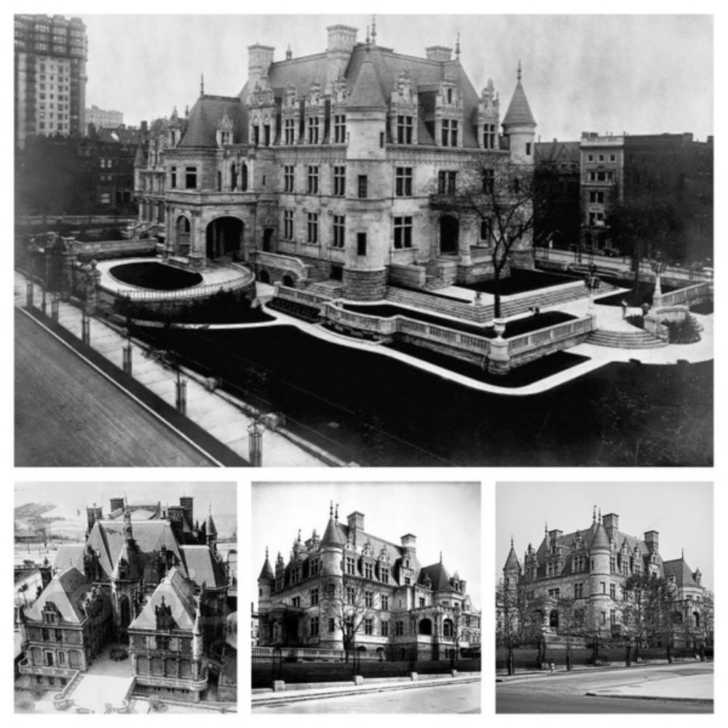 Surprisingly, this isn't the Charles Schwab name we know, but Charles M. Schwab, who was a steel titan from Pennsylvania. This lavish, 75 room mansion took four years to build, was 50,000 square feet, and had three separate elevators. The Schwab empire would hit hard times during the Great Depression and the house would be sold at a huge discount and demolished in 1946 to be replaced by apartment buildings.
While these beautiful mansions may no longer be standing, here's one that is; and it has quite the story! Click the NEXT PAGE BUTTON to read about The Winchester Mystery House!