What a talent she was!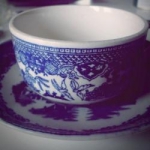 Rose Heichelbech
So many of us grew up watching the Our Gang films, also known as the Little Rascals. We could never forget Little Darla, the constant crush of Alfalfa and the original girl with an attitude. Darla Hood joined the cast in 1935 and stayed on until 1941. The Hal Roach films during the '30s set the stage for more realistic portrayals of children in films, often showing the gang in raggedy clothes or fighting. And, Little Darla was one of our favorite characters from the films!
Some have compared her to Shirley Temple and interestingly enough, Temple auditioned for the Our Gang films but didn't make the cut! But, both ladies had singing careers after making films in childhood.
Hood went on to sing on variety shows and to create tropical-themed albums such as Quiet Village during the tiki craze that swept the nation. Here she is singing on The Jack Benny Program in 1962 with her song "It's a Most Unusual Day" and what a lovely voice she has! Have a listen below.