Seeing these old designs brings to mind the Rat Pack performing at the Stardust!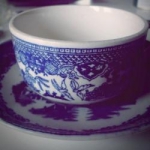 Rose Heichelbech
Imagine the fading history of the Vegas Strip being chucked away, the signs that once lit the most glamorous hotels being sold for scrap or worse. Now, imagine a place where, if they can't be of service to their original landmarks, they can still be admired by the public. Such is the goal of the Neon Museum in Las Vegas.
The "boneyard" (as they call it) contains some of the most detailed and skilled neon signs of the era, a dying art according to Dawn Merritt who works there. Each element was made of hand-blown glass tubes, elegantly arched and contorted to create signs that were simply stunning to behold at night. Take a tour of the museum in the video below. And, check out the glamour and glitz of one of Old Hollywood's most revered nightclubs by clicking "Next Page" after the video.