These gals are so entertaining! They make it look easy.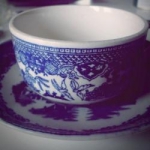 Rose Heichelbech
Reg Kehoe and His Marimba Queens was a quirky act that performed on stage and in films from the '30s to the '50s featuring a male conductor with an all-girl band- a real rarity for the time. Clips from the short film A Study in Brown (1944) are the main surviving footage of this incredible 9-person group from the era. But, another lesser-known act from the same film showcases a whole other kind of girl group featuring three talented ladies. Dressed in matching outfits they do an energetic performance complete with backflips and lifts.
The Three Winter Sisters were a tumbling and dance act in the '30s and '40s and they do a wonderful job here showing their acrobatic skills. We love clips from back then because performers really gave it their all in these routines! Check out the Three Winter Sisters in the fun video clip below.