Like so many performers of the era, he died tragically in a horrific accident.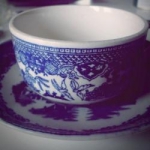 Rose Heichelbech
In the early days of rock and roll there was quite a lot of crossover with country and jazz music, so it makes a lot of sense that crossover hits were pretty common back then. It was not unusual for a jazz standard or a deeply Southern song to hit #1 on the pop charts. And so, when country singer Johnny Horton released the Jimmie Driftwood cover "The Battle of New Orleans" in 1959 the song quickly became a national hit.
Horton was invited on shows like American Bandstand and The Ed Sullivan Show to do his country hit and people could not get enough. Sadly, Johnny Horton, like so many performers of the era, died tragically before his time in a car accident in November of 1960. Like Patsy Cline, Jim Reeves, and Buddy Holly, Horton was at greater risk because of his constant musical touring. Have a look at Horton all dressed in a white Daniel Boone outfit on The Ed Sullivan Show in the wonderful video clip below.