Johnny Cash was a music legend!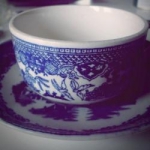 Rose Heichelbech
"Walk the Line" has been a perennial favorite for Johnny Cash fans for decades and he performed this hit on The Tex Ritter Ranch Party TV show in 1957. For the performance Johnny Cash is dressed in a white suit, which fans will know would never have happened in years later for the Man in Black. There are various reasons for Cash's later fashion choices ranging from political and social protest to Cash claiming it was just easier to keep clean than white.
It's so interesting to see him in a rhinestone studded white suit, with a slicked back pompadour looking so handsome! Cash is heard here, like on the studio recording of the song, humming the first bar of each verse to make sure he's on key (some versions tell it that he picked up the habit from a small town doctor years before). Strange to think that Cash was stationed in Germany only 3 years before he would be selling a million records and appearing on TV! Check out the video below for a wonderful performance by one of music's all-time legends.
https://youtube.com/watch?v=DMgbul-bq3Q