The fashion of the 1950s was so glamorous.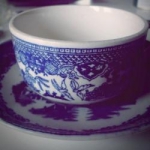 Rose Heichelbech
There's no question that ladies fashions in the 1950s were decidedly feminine. Fit and flare silhouettes and bullet bras were favored and to go with this very womanly look were the ever-present high heels.
From stiletto to Cuban to kitten, heels were the shoe for most women in the decade. And, a flurry of innovations during the decade meant there was always something new going on. In 1956 a studio in Norwich, England, was painting tiny designs by hand on heel forms in painstaking detail. Birds and flowers were 2 common themes, but some of the designs also included thousands of delicate rhinestones. Just imagine having a pair of shoes this glamorous in your closet!
It's a shame that styles like these never really caught on because we could imagine a pair of heels like this being one of the most prized possessions of a lady back then. Have a look at how they were made in the fascinating video below.