This dance is something you never forget!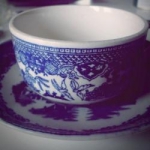 Rose Heichelbech
The original hand jive dance is reported to have come about in a basement club in the Soho neighborhood of London called The Cat's Whiskers, a dance recorded in photos by photographer Ken Russell in 1957. Much like balboa swing dance focused on small steps dance on the crowded dance floors of California in the late 1930s, the hand jive was came about in the 1950s because the dance floor was so crowded that kids had to "dance" with their hands instead of their feet.
Engaged in by the fashionable teddy boys and teddy girls of London, the hand jive also popular in the U.S. and soon it was being even being shown on TV. The Johnny Otis Show ran on local TV KTLA in Los Angeles in 1954 and was where the many kids learned about not only the hand jive, but Etta James and Little Esther, too! We may not know the specifics of when exactly this dance was created, but in the clip below you can see one of the first ever televised versions! Watch this wonderful clip of Johnny Otis and his band performing the music while the girl group Marie Adams and the Three Tons of Joy perform the dance. This brings back so many wonderful memories! Do you still remember the hand jive?