Grandmother's Kitchen: So Much White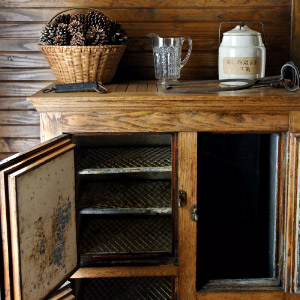 Dusty Old Thing
Many of us remember the kitchens in our Grandparents' homes. Often the cupboards were white. There may have been linoleum on the floor. There may have been a white painted Hoosier-type cabinet. The appliances, if they were past the 1940's in date, would have been white. Maybe there was a white kitchen table, either painted or with an enameled top…or even one with chrome and a Formica top. Maybe the accents were red.
Here are a few vintage pieces that reminded us of those days. All are from our readers and we'd like to thank them for sharing the photos and the stories. We hope they bring back good memories for you, too.
We hope you enjoy these photos. Whenever we see new furniture that is for sale…almost always at a very high price…we think of pieces like these. Our grandparents' "made-do" and the food they cooked in kitchens with cupboards and tables like these was delicious. They still seem to speak.