These two lovely ladies will have your toes tapping in no time.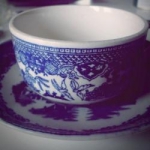 Rose Heichelbech
Who doesn't love a good Gracie Allen bit? She was one always one of my favorites and in this wonderful clip from the 1940 film Honolulu we get to see her sing and dance. Not only that, but we also get to enjoy the tremendous footwork of Eleanor Powell as she taps, jumps, and spins her way around a steamer ship in perfect time.
Powell only appeared in a handful of films from 1936 to 1943, but was known to have toured after that. Her short but legendary stint in Hollywood earned her a star on the Hollywood Walk of Fame. Her non-stop moves, impeccable timing, and high-energy routines consistently left audiences stunned. Have a look at this clip which shows her abilities beautifully. They just don't make films like this anymore! For more dancing fun, check out a clip from Swing Dance Fever right here.