You won't believe how much this bed does (or how much it weighs)!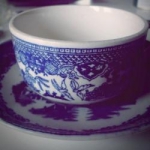 Rose Heichelbech
This luxury bed of the future as envisioned in 1959 had a built-in phone and control panels for the lights in the room, a small kitchenette hidden inside a drawer, and was also a power bed able to raise and lower. The two-twin bed configuration slides together or apart in what is the epitome of 1950s sitcom glam, but with a futuristic luxury twist. And how much did this space age bed weigh? A mere 2,500 pounds!
Other modern conveniences they thought up were electrified facial care (so very prevalent today) and a tape player for listening to music in bed (or if career ladies wanted to dictate work notes before bed). They couldn't have predicted that fur would become terribly out of fashion or that we'd cease the need for bringing the milk in at the start of the day – something the announcer notes this bed actually can't do. Have a look below in this fun British Pathé newsreel below.