We were not expecting that.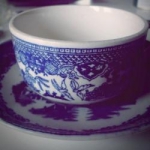 Rose Heichelbech
In 1963 Frank Zappa was just 23-years-old, a mere pup. But, he was already working on film scores and appearing on television- albeit in a role not exactly like what he would be known for later in his career. As a guest on The Steve Allen Show, Zappa had a sort of combination interview and demonstration segment. Over the course of the interview Allen asked him a few questions and made a few jokes, but the last laugh was had by Zappa.
Holding a violin bow, Zappa shows Allen how he can "play" the spokes of a bike wheel like the strings of a fiddle and how he can blow through the hollow metal handlebars and get a strange whistling sound. Zappa then invites Allen to try it out for himself, but it doesn't quite go as Allen planned. In fact, it becomes a bit chaotic when Allen can't get the right sounds to come out. Allen then says to the audience that they can try this at home with their own bikes- provided they don't have any "wiseacres" like he has on his set. Ever the cool customer, Zappa seems completely unfazed.
Watch this hilarious black and white clip of Frank Zappa playing the prankster in the video below.