It's so much fun- you'll want to watch it twice.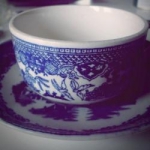 Rose Heichelbech
The three-headed rock & roll monster was the first time the Muppets appeared on a national TV show. Jim Henson had been using his delightful puppets in commercials for a few years before this act. One of his earliest was a Marathon TV ad with talking gasoline pump handles. In 1966 the Muppets debuted on The Ed Sullivan Show. Legend has it that Ed Sullivan pronounced Henson's name wrong and it had to be corrected with dubbing later on. After his Muppets made a world-wide splash, very few people forgot his name again and the Muppets made regular appearances on the show.
It was only 3 years later that Henson would get the chance to showcase his Muppets on Sesame Street every week. Little did he or Sullivan know that the Muppets would become some of the most recognizable and trusted children's characters of all time. Have a look at the debut of this phenomenal and iconic act on from The Ed Sullivan Show below. Oh, and the song is "Rock It to Me" by the Bruthersin case you were wondering! And, you can another classic Muppets performance right here.