Wow! These are so beautiful!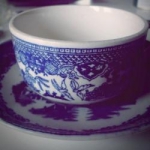 Rose Heichelbech
You may have seen DIY projects where broken Fiestaware pieces have been used in mosaic tile projects. Well, now you don't have to break anything to get that wonderful color onto your wall. They've has teamed up with Limelight Tile & Ceramics to make Fiestaware tiles! With 14 colors and various shapes and sizes, it seems like these new tiles will open up a world of possibilities for those who enjoy this iconic look.
For collectors this could really set off a kitchen with tiles on the wall and Fiestaware on display. But, even if you're not a collector, the Fiestaware colors just have that lovely vintage feel to them like nothing else does. From Art Deco to mid-century, this kitchen classic spans the decades beautifully. They would even be gorgeous in a bathroom! Just imagine a row of these as a border along the wall!
The Fiesta tiles will go on sale in spring of 2017. We can't wait to hear more about this fabulous innovation. This is some exciting news for those who absolutely can't get enough of Fiestware!
If you love vintage kitchens then click here for some interesting history!