Fake news can even be found on history sites.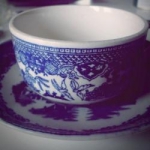 Rose Heichelbech
Jo Hedwig Teeuwisse is the brains behind Fake History Hunter, a social media account which is active on Facebook and Twitter. If you follow her Twitter feed then you'll quickly realize the shocking number of times that stills from fictional films are passed off online as actual historical events: just incredible!
Teeuwisse has an intense passion for history, creating beautiful works of art which show historic photos along with their modern geographical locations which she calls "Ghosts of History." In an interview for the show The Observerson YouTube, Teeuwisse explains how the devil is in the details and that the "historic" photographs shown in the video just seemed off to her somehow. Teeuwisse goes through some commonly (and falsely, we might add) referenced historical images to get to the bottom of why you can't always trust what people tell you online! A closer inspection and some research exposed them for either fake images or real photographs taken wildly out of context online. In order to avoid sharing false information, The Observers recommends researching photos before you hit that share button. Find out more in the video below.