This song has been covered by Bing Crosby and Pat Boone among many others!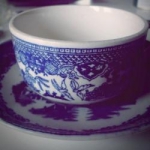 Rose Heichelbech
"I'm Walking the Floor Over You" is said to be the song that launched the country music genre into full public view. The song was written and recorded by Ernest Tubb in 1941 to great acclaim and with sparse arrangement. As Tubb aged his voice changed and another version was recorded by him and his Texas Troubadours with a fuller arrangement, this time with the added texture of his less-than-perfect voice. While many folks have commented on how he really wasn't the best singer around, we wouldn't have his voice any other way! There was no one who sounded like him at the time.
Watch the video below of Tubb performing on the Pet Milk Grand Ole Opry in 1961. Incidentally, if you're wondering who the host is it's T. Tommy Cutrer, country musician and later Tennessee senator. If you enjoy classic country tunes then you have to check out one of Patsy Cline's last TV performances by clicking the "Next Page" button at the bottom of the page!
https://youtube.com/watch?v=nWmbFXJDHrM