Embroidery, Beading, Fashion and Meaning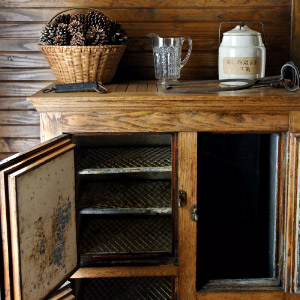 Dusty Old Thing
Everyone knows that Dusty loves vintage crochet, Irish lace, tatting and embroidery. We also love beautiful things like vintage beaded collars that, we think, are under-appreciated. Karalea's appears to be a sweater collar since the silk backing would not show if placed underneath the neck of a sweater or a dressy blouse. Other examples have bead work that completely covers the backing and could be worn with a lower neck dress. However they were worn, they brought a touch of affordable glamour to post WWII fashion.
Most of the vintage beaded collars that are now available were made in Japan after the war and used simulated pearls. Japan has had a long tradition of bead work dating back centuries. After WWII, as we all know, the wearing of pearls became highly fashionable. Whether they were real, cultured, or simulated, stands of pearls were worn with dresses, suits, sweaters and evening gowns. The necklaces often had elaborate, jeweled clasps.
We're not sure why pearl collars became fashionable after WWII, but suspect it was a combination of skillful marketing and a celebration of freedom from the rationing and often-drab styles of the war years. We know that the "New Look" of Paris and London designers brought back an emphasis on femininity, lush fabrics used in volumes, and beading for evening wear.
Baar & Beards, Inc, was a ladies neckwear store established in New York City in 1941. Their "Top Hit" line of scarves and collars included many pearl embellished collars made in Japan after the war. Many of the vintage collars available today have their label.
We do know that we think this vintage accessory is a thing of beauty. They mark a specific fashion period but can bring a sense of vintage glamour to today's fashion. They seem to bring fairly low prices online and are one of those things that we think should be better appreciated.
Silk piano scarves (or shawls) with beautiful embroidery were very popular in Edwardian homes and through the 1920's. They mark that time when having a piano, especially a grand or baby grand, in the home was considered a mark of refinement. The scarves had long fringe and the embroidery provided enough weight to keep the scarf in place. They came in square, rectangular or triangular shapes. They also had a bohemian flavor in more fanciful decorating and were often thrown over sofas, chaise longues, chairs, and beds to provide a sense of mystery and luxury. At various points since their heyday over pianos they also were worn as actual shawls. They are beautiful.
ThePiano Performance Museum in Hunter, NY, has had an exhibit that included piano shawls.
Kay did well with her purchase of boxes!
There are few antiques or vintage objects that mean more to us than those made by our ancestors. We'd like to thank Peter for sharing this work of art. We can imagine his 13 year old grandmother learning embroidery stitches in Greece over a hundred years ago and making this with so much care.