Dave McPherson was just 22 years when he became Disneyland's first customer in 1955.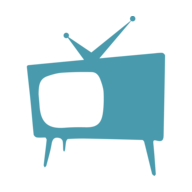 Timothy Roberts
Dave McPherson was studying at Long Beach State College in 1955 when he decided to go to the opening day at Disneyland. Little did he know that he would be going back every year to the 'Happiest Place on Earth' since that day in 1955. He was the first customer that would go into the amusement park after standing in line at the ticket window since 2 AM in the morning. On July 18, the day that Disneyland opened to the general public, he walked into the park with more than he bargained for.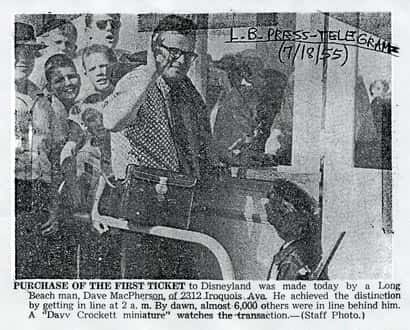 David heard the broadcast announcement that Disney was inviting viewers to the new theme park. He said: "I decided I wanted to be the first in line. The first person to go into the park who wasn't a relative of Walt's or some celebrity. The first regular guy to go in through the front door."
In order to achieve his goal he jumped on his motorbike and rode the 10 miles from Long Beach to Anaheim. Even though he had to stand in line from 2 AM until opening, he said it was worth every minute. "Back then, folks would pay for admission and then buy books of tickets for various attractions. I don't know what happened to the admission ticket for which I paid a dollar. "
Board Panda said that he also received a complementary card with the ticket but he didn't use it because he had the long trip back to Long Beach. He did, however, receive a lifetime pass for being the first regular customer that went into the park. He has been taking advantage of that lifetime pass every year since that time.
[Zone 42] Dave MacPherson est le premier client de Disneyland et il utilise son billet gratuit à vie tous les ans depuis 1955 ! –> https://t.co/gySLIla3Vf <– #ChrisTec #Tech #HighTech #Geek #newtech #design #geekerie #innovation #tendances #VeilleTechno pic.twitter.com/KqZkRzn7Sg

— Chris™❄️☃️ (@ChrisGeekWorld) October 3, 2019
This Day in Disney History said that he received the lifetime pass to the park at a later time and he continues to get installments of that pass every year. David said: "Each January I eagerly await the arrival of the next installment of the pass which is then good for another year at any Disney park, and I have received these annual passes since 1955. In the beginning, it was just a paper or cardboard pass and for years it was silver. In recent years it has been red in color and is made like a credit card and says on the front "VIP MAIN ENTRANCE PASS." The reverse side has my name and says: Admit Passholder and 3 Guests."
YaaaaaY!!!#davemacpherson @Disney @Disneyland #indonesiafortheworld #indonesiauntukdunia ♡ ƪ ( ◠ ε ◠ ) ʃ pic.twitter.com/xsP9bpseTb

— Stevany Suryaputra (@StevanyIFW) October 8, 2016
He did not go to the park on his own in later years. He would go with his wife, Wanda and close friends, Martha & Joe Ortiz. Photocopies are carried off a page in his scrapbook that showed the 'first-day' clippings from newspapers in Los Angeles and Long Beach.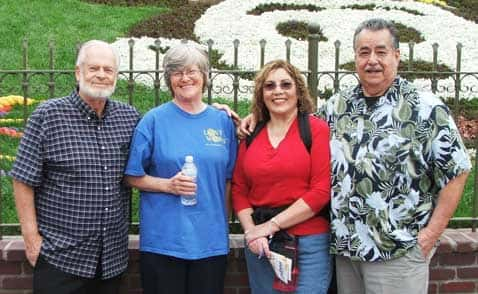 "It isn't unusual, after I give a copy of that scrapbook page to anyone manning the entrance gate, to have that official shout to the crowd "Folks, this man bought the first ticket to Disneyland when it opened in 1955." You can't believe how many folks from different parts of the world have then come over and asked for my autograph or shot a picture of my wife Wanda and myself!"