In an alternate world, this song might have made the final cut!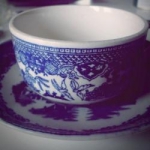 Rose Heichelbech
Most of us could probably sing "Over the Rainbow" in our sleep. Heck, maybe some of you even do! But, there's another song which was cut from The Wizard of Oz that many people have never heard. The song is "The Jitterbug" and was cut from the 1939 classic film just before the movie came out in theaters. Because it was a last minute cut, the song remained on the 78s produced for Decca Records. The accompanying dance routine that went with the song is now lost.
But, the good news is that Garland reprised the song on The Judy Garland Show in 1963 with Jane Powell and Ray Bolger. What's even more fun? We get to see the Jitterbug performed! This rare insight into film and dance history is a gem and it's always incredible to hear Judy Garland sing. Have a listen to this rare song below. And, you can check out what makes "Over the Rainbow" such a memorable song right here.
https://youtube.com/watch?v=nYbCqjMftbg