Antiques don't just have to sit in cabinets or tucked behind glass – in fact, there are lots of ways to creatively decorate with all kinds of different antiques.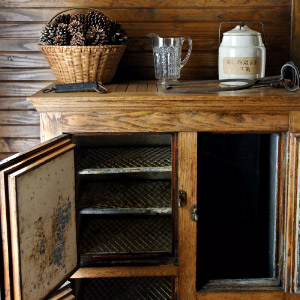 Dusty Old Thing
Antiques don't just have to sit in cabinets or tucked behind glass in fact, there are lots of ways to creatively decorate with all kinds of different antiques. Read below for a few of our tips, and hopefully you'll find some inspiration!
Bottles or jugs as vases: Who needs brand-new glass vases when you can find old soda bottles instead? Perfect for housing freshly cut flowers, antique bottles and jugs offer a unique bit of flair and you could even craft wall vases for a little side project. Click here to see how Eclectically Vintage turned an old Pepsi bottle into a beautiful wall vase.
Window shutter as mail holder: How often does the kitchen table or counter serve as a second mailbox? Instead, organize them with a window shutter mail holder an innovative way to repurpose an old window shutter (we often see these at flea markets). Click here for an instructional video from Better Homes and Gardens, and click here to see Apartment Therapy's other ingenious ideas for recycling items as mail holders around the house.
Ladder as a shelf: We were pretty pumped when we saw this idea on Pretty Handy Girl (click here for DIY instructions) for turning a ladder into a display shelf with a few adjustments, you've got a place to set plants, books, picture frames, and many other items. Want to get really creative? Try Dandelion Express's idea for using an antique ladder as a bookshelf, when placed horizontally.
Trunk as a coffee table: The trunk-as-a-coffee-table idea is great for two reasons your coffee table will earn lots of compliments and really stands out in a room, but also can conveniently house things like blankets and other living room essentials. Just make sure your guests use coasters with this delicate piece of furniture.
Crates as a bookshelf: Old crates stacked together make the perfect bookshelf, or simply a place to display picture frames and other decorations. Plus, you can experiment with the crates going in different directions, or even hanging them right on the wall like Mr. Kate did.
Vintage hand mirrors on the wall: A lot of people have a big, single mirror hanging on the wall but how elegant would a series of vintage hand mirrors look hanging together on the wall instead? You could even have a larger antique mirror with smaller ones surrounding it, like Mamie Jane's.
Old newspaper or magazine as wallpaper: This idea sounds pretty interesting and comes from Country Living. With some wallpaper paste and flat craft sealant, you too could turn a blank wall into something lined with history if you happen to find a bunch of newspaper or magazine pages in pretty good condition.
Picture frame gallery wall: The combination of different, unique frames in a gallery wall is always beautiful to see. With or without photographs inside, these collections of antique frames are a stunning way to decorate any wall.
There are tons of other ways to decorate with antiques, so don't stop with this bevy of ideas with a bit of creativity, you can find lots of functional and gorgeous ways to incorporate all your finds into your decor!