What a show-stopper!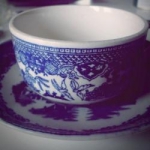 Rose Heichelbech
Some songs just instantly make you feel good- almost like you were a kid again. Well, this song from the The Crystals is definitely one of those songs! The 1963 hit, "Da Doo Ron Ron" has such catchy lyrics, it's no wonder that the song was remade by several different artists. But, we think the original version is simply the best rendition of this song!
About those lyrics- you might think there's a secret code in the chorus, but really the words were placeholder words made up by Phil Spector and Ellie Greenwich, two of the writers. Then they liked the way it sounded so much that they kept them in! Incidentally, Greenwich also co-wrote "Be My Baby" and "Leader of the Pack" two of our favorite songs from the '60s!
What great memories we all have to this wonderful song. Have a listen below. And be sure to check out another high-energy '60s hit right here.