You have to see these dancers boogie it down!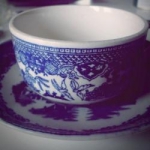 Rose Heichelbech
This catchy tune from the film Let's Go Steady (1945) is bound to put you in a good mood. "The Baby Boogie" here is sung by the phenomenal Mel Torme and June Pressier and espouses the fun of baby talk and boogie woogie in the same breath. Swing music and boogie woogie, being the latest fads at the time, were worked into films of all kinds. Professional swing dancers were hired to perform the latest moves in some of these classic old films from during and after World War II.
The clip features the dancers Dean Collins and Jewell McGowan doing wonderful swing steps, including some jumping and tossing! This fun clip will have you humming and tapping your toes as if you're right there with the dancers. Have a look below and be sure to check out a truly classic dance routine right here.