The whole thing was a charmed event.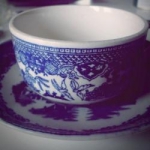 Rose Heichelbech
Audrey Hepburn has long been one of the most recognizable and beloved starlets of the 20th century. Even now, nearly 30 years after her death, she remains a style icon and a role model for millions around the globe. Her early life was marred by World War II, but she managed to make her big break in film. Not long after she became an international sensation, she married a fellow actor in a tiny chapel in Switzerland.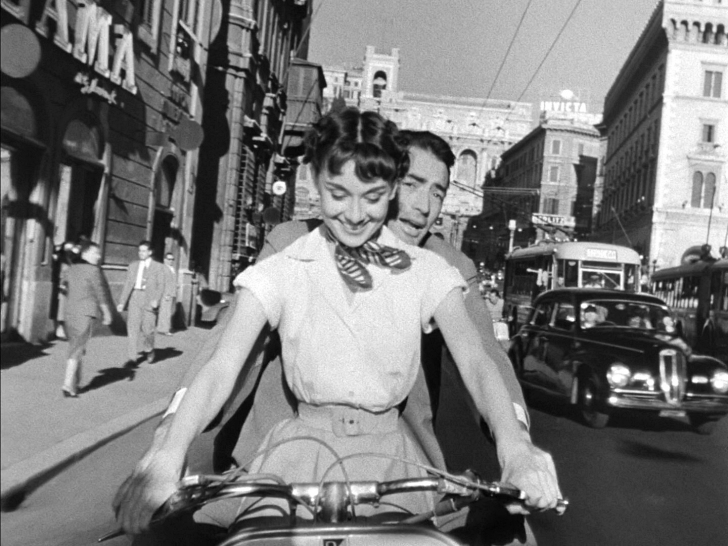 Hepburn's first ambition was to become a ballerina, but despite her natural talent for dance the interruption of classes for long periods due to the war and severe malnutrition kept her from that dream. By the last winter of the war, her family was down to eating bread made from ground tulips.
She auditioned to dance in both English and Dutch language films. But, she took acting and modeling work in order to support herself after the war, which she viewed as stopgap measure. Her big breakout film was Roman Holiday (1953) for which she won an Oscar for Best Actress.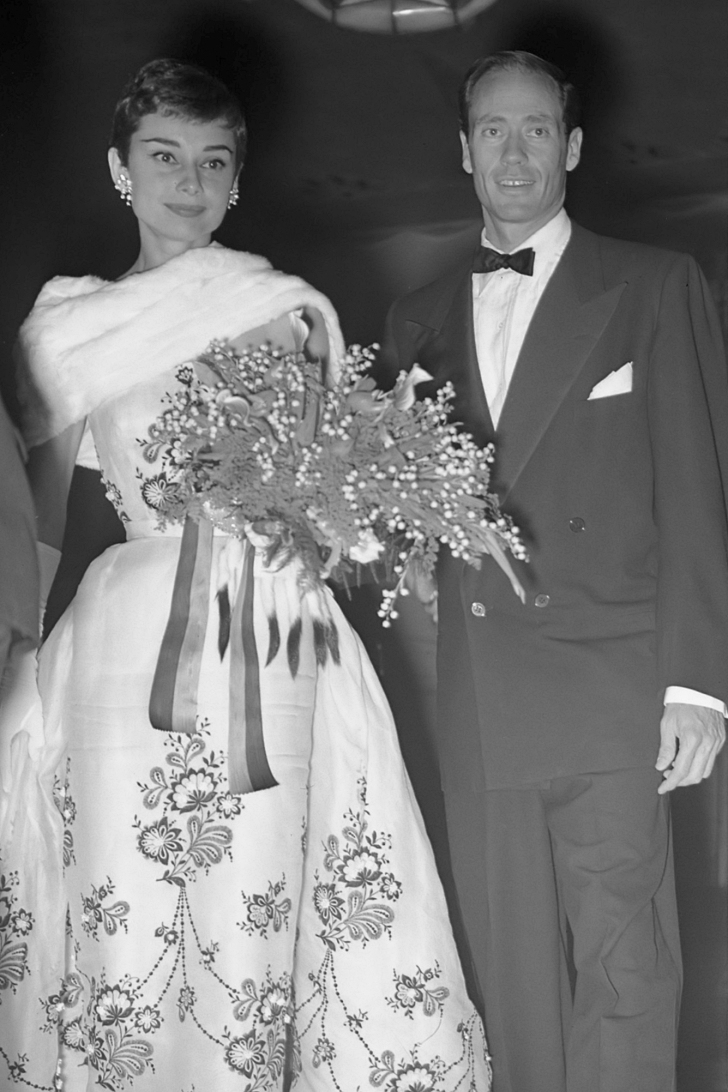 Hepburn's role in Roman Holiday, followed by her subsequent films like Breakfast at Tiffany's, Sabrina, Funny Face, and even My Fair Lady, cast her as a new type of woman. Her short hair, kicky style, and independant attitude conveyed the rise of the self-sufficient woman, a phenomenon that took much of the world by storm just a decade later. But, one of her greatest ambitions was to get married and have a family.
Rare photos of her first wedding have now been made public by the ETH Library in Zürich.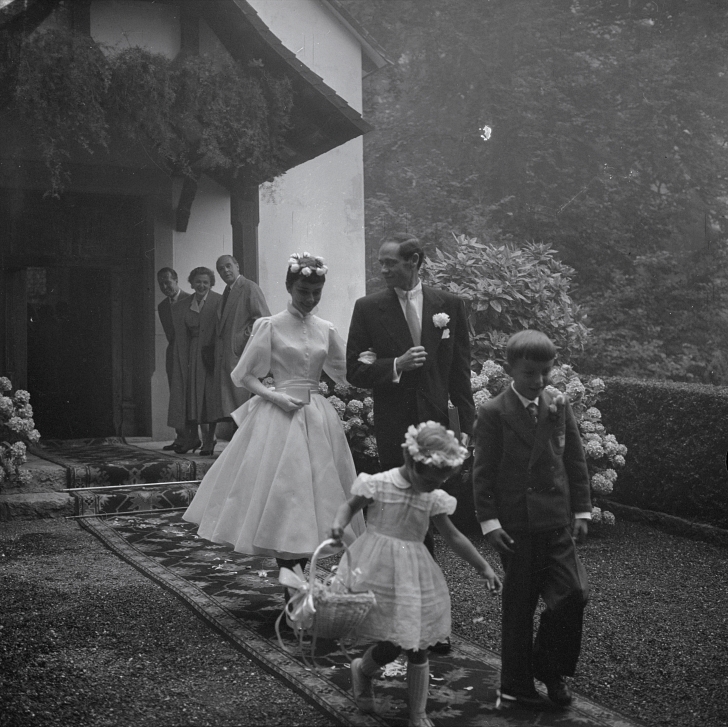 The same year she won her only Oscar she married fellow actor, Mel Ferrer, at the Bürgenstock Chapel in Ennetbürgen, Switzerland in 1954. The pair met at a party not long after she ended her engagement to businessman, James Hanson. Her reason for the split with Hanson was that it would be far too difficult for one couple to manage 2 international careers successfully.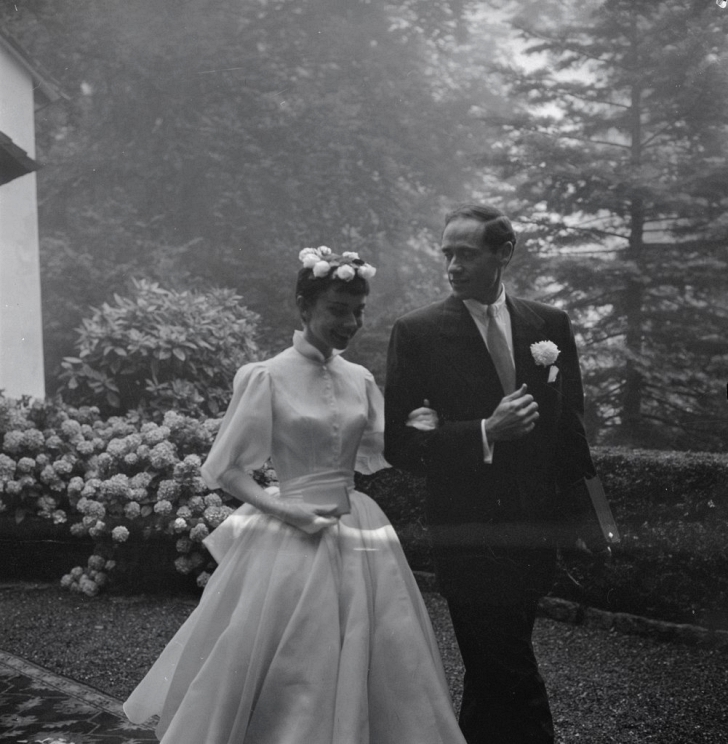 On the other hand her relationship with Ferrer was in some ways easier since both of their lives revolved around the film industry. After a whirlwind engagement Hepburn and Ferrer decided to marry in a small, out-of-the-way chapel in Switzerland.
The quaint setting was far removed from the film sets and the glitz of Hollywood that both were immersed in. According to Hepburn the wedding was, "in a tiny chapel with a wedding breakfast after."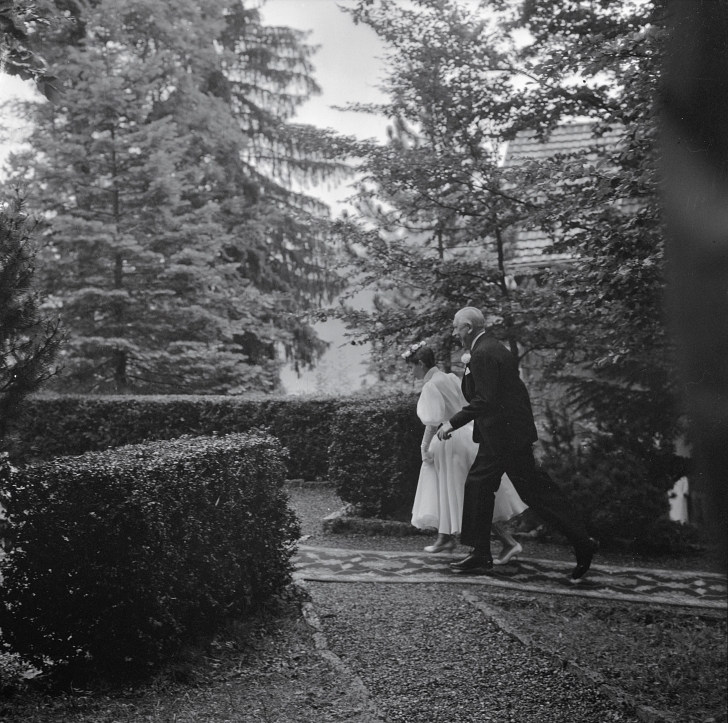 Hepburn wanted the wedding tucked away in a remote spot to avoid the paparazzi. She wrote of her upcoming wedding, "We want to keep it a dark secret in order to have it without the 'press'."
Hepburn favored French designers and her tea-length wedding gown was designed by Pierre Balmain. The dress was accented by delicate buttons down the front, a satin sash at the waist, puff sleeves, and a standing collar of sheer fabric. She wore a crown of flowers over her short hair with no veil.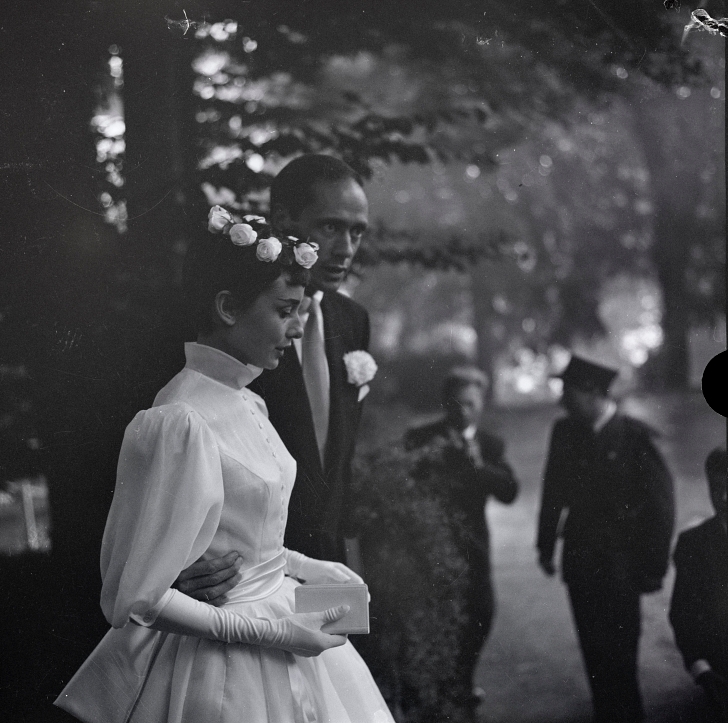 A long and lavish carpet was rolled out for the entrance to the small chapel. And, judging by the images of people holding umbrellas as well as a photo of Audrey dashing towards the chapel it was probably raining that day.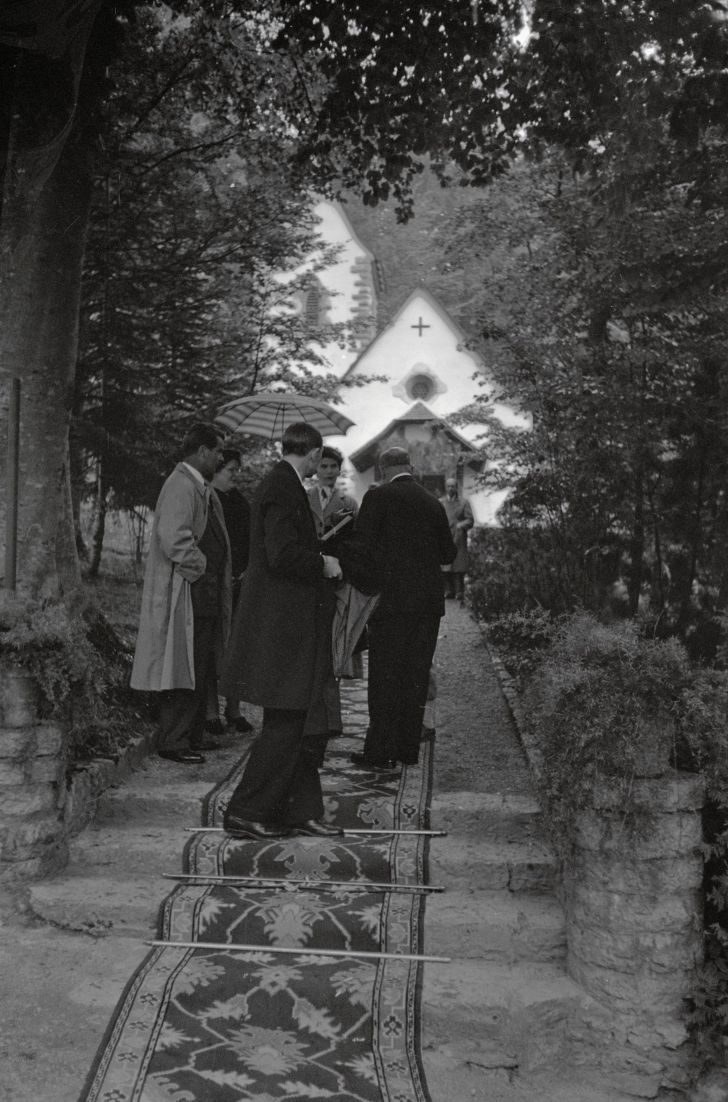 After many miscarriages, 7 years after they were married Hepburn finally gave birth to her fist child, a son named Sean, who she described as being a "dream" to be around.