Archiving My Mother's Things. Part I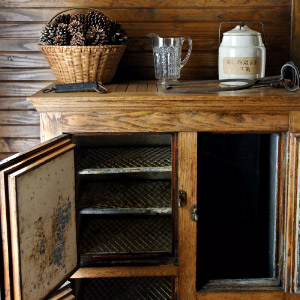 Dusty Old Thing
Many of us have inherited boxes or trunks full of papers and photos and books and recipes, old cards and old newspapers, keepsakes we understand and those we don't. We say that one day, someday, we'll organize the things. We'll get family together and identify who-is-who in the old photos. We'll scan them in and make copies for everyone. We'll go through all the papers and the Bibles and the scrapbooks and the yearbooks and we'll make sure the good things are kept safe.
My mother died 15 years ago. I'm a minimalist, almost to Scandinavian sparseness. She, being a child of the Depression, was not. She had lots of "stuff" and a Victorian taste in antiques. Thankfully, all was clean and ordered. She had worked for the Air Force during WWII and that rigor had rubbed off. She inventoried everything. Even boxes in the storage room were labeled with their contents and the boxes recorded in a master index. Even silly things she kept from that "collectables craze" of the 1970's were boxed and labeled.
She also decided, as she aged, to try to put the photos and paper mementos into compact order. We had long had the practice of everyone in the family having a trunk for most prized possessions. (Since a 1840's family home had burned way before I was born, we all inherited a belief in the need for quick exits.) My mother went through her photos, organizing them by her own secret code, and put them into corresponding envelops. She started keeping scrapbooks, putting what was important to her then in them. Guestbooks and address books and the best art from each grandchild went into the trunk. Holiday cards and correspondence went in. So did our family history and the narrative she wrote about her own childhood. Things that wouldn't fit went into the bottom drawer of the big Empire chest.
In 15 years I've been through it all many times and disturbed her order. I have come to realize three things: 1) It is not truly organized; it is not "archived" in a way that will allow people other than me to remotely understand it; 2) It is not protected from the ravages of time; and 3) I have not archived my own life.
So, this Mother's Day I'm going to start by tackling "My Mother's Things". I'm going to start being a family archivist.
Maybe it's something you have thought about, too.
Fortunately there are good resources available to make the task less daunting. One good book I've found is How to Archive Family Keepsakes by Denise May Levenick. The Smithsonian's Saving Stuff by Don Williams and Louisa Jagger also gives great information on caring for and preserving heirlooms. Chapters in Levenick's book include: "Organize Your Objectives", "Set Your Goals & Timelines", "Inventory Your Archive", "Order Your Storage Supplies", etc. The last chapter is "Plan Your Legacy".
So, friends from Dusty Old Thing, how many of us brought out photos today of our mothers or grandmothers and quietly said we need to organize them? How many of us will put that thought into action and be family archivists, too?
Stay tuned and I'll keep you up to date on how I'm doing "Archiving My Mother's Things". One of her photos is below. It was her sophomore year in college. She was wearing her boyfriend's sweater. He played football. They did not marry. When she was about 90 she called up a local radio talk show and talked about her college days — and– about him. Young love is always a part of an archive we don't want to lose…