You might be surprised by how much he reminds us of The King.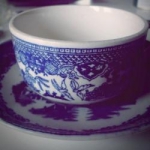 Rose Heichelbech
Andy Kaufman was famous in the 1970s for his impersonations, often delivered with shocking inaccuracy in the same voice he used for the Latka character from the TV show Taxi. But, then he would pull out a spot on impersonation and really stun the audience. We don't think of Kaufman today as a musical legend, but we are here to tell you that he does a mean Elvis!
Doing his best guitar playing and hip swiveling on The Johnny Cash Christmas Special in 1979, Kaufman manages to captivate the audience. This was just 2 years after The King passed away and for many it probably felt like a tribute to one of rock and roll's greatest performers more than a comedy routine. Andy Kaufman plays Presley's "That's When Your Heartaches Begin" so well and with such heart that we have to agree! Have a look in the fun video below.