Member Antiques: A Southern Classic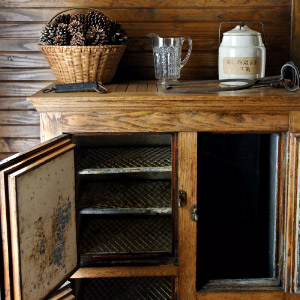 Dusty Old Thing
We'd like to thank one of our readers, William Entrekin, for sharing this marvelous photo of an antique huntboard. Notice the darling child's chair, too. William, in a comment, said that the oil above the huntboard is of Lake Allatoona, which is in Georgia. We love, too, the walls of the room. That's classic construction in certain areas of the South where wood was plentiful. It always seemed to us to make a house cooler.
Huntboards traditionally are taller and simpler in design than sideboards. They were frequently placed in hallways and, according to lore, used to serve riders before/or after a hunt. Most had at least one door, like in William's, for the storage of decanters, tall glasses, and perhaps bottles of a favored drink. Drawers may have held shorter tumblers or cups, smaller trays, napkins, etc. Today antique huntboards are very much loved by people who value early 19th century American furniture.
One interesting facet in talking about huntboards is that, according to an Antiques Roadshow episode, the name "huntboard" has never been found in the diaries are cabinetmakers. Some researchers believe that they were referred to as sideboards, but made taller. They were most frequently seen in Georgia and South Carolina and, according to the appraiser on Roadshow, "quintessentially southern".
Huntboards are, of course, reproduced. They are practical pieces of furniture with great beauty.
Thank you, William, for sharing your wonderful photo with our readers. Now we all have to have some punch and go riding….