Expect the unexpected with these designs.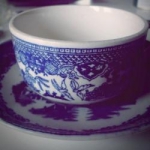 Rose Heichelbech
When we think of 1950s fashion we usually don't think of clear heels and avant garde design. We tend to think more of petticoats under dresses, plain leather pumps with an immaculate shine, and perfectly coiffed hair. But, there were some interesting designs coming from forward thinkers in the fashion world and we'll see a few of them today in shoe form.
The British Pathé video below shows shoe designers at work creating some of the most fashionable styles we've seen. From decorations to heel shape and size, these designers were creating these looks from start to finish. This 1957 clip shows some surprisingly futuristic designs: clear wedges with a scene inside and sleek leather high heeled mules. These two trends would not make it anywhere near the closets of regular women until the 1970s and 1990s respectively. Have a look at the fun fashions in the newsreel clip below.