You'll never guess how long some of the divers were underwater!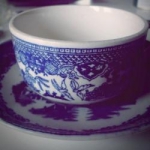 Rose Heichelbech
The Weeki Wachee underwater theater was the brainchild of Newton Perry, who opened the unusual park in 1947. The Florida attraction has been sold several times and is now part of Weeki Wachee Springs State Park which still offers shows of its famous mermaids. Just one year after they first opened the performers put on a Christmas show underwater in front of the huge glass panels which provide the audience with a clear view to these talented swimmers.
The performers had access to tubes which provide oxygen so that they never have to go more than 40 seconds without air (the safest scientific limit for a human to hold their breath). The mermaids are still using this method today. Have a look below at this underwater Christmas from 1948.