This book has an amazing amount of information in it.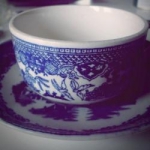 Rose Heichelbech
In the early 17th century a solitary copy of a book of poetry was printed, Isaac Hillaire's Speculum Heroicum Poetarum. Gutenburg's printing press was less than 100-years-old at this point and books were still somewhat rare. This copy was bound in 1615 and would accompany a young seminary student named Hans Carl Erlenwein in his studies in Fulda, Germany. In amongst the writings about Homer's Iliad friends of Erlenwein's wrote funny anecdotes, drew silly pictures, and reminisced about their family trees. He's even referred to in the book as "Joannes Carolus Erlenwein" a Latin alter ego. This type of book is known today as a friendship book, but back then it was the closest thing to social media people had.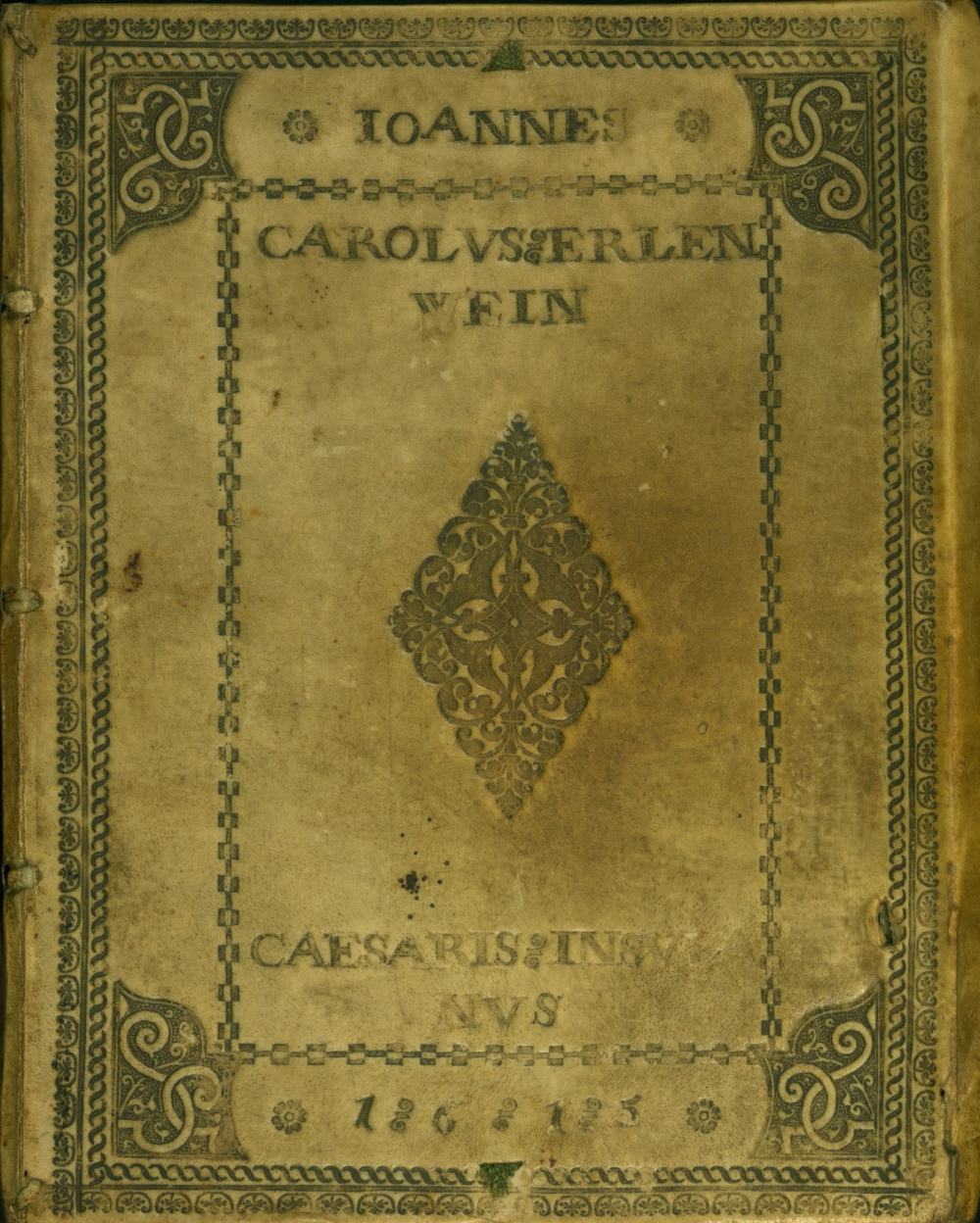 Erlenwein, like his fellow students, was among the upper class. Only someone of great wealth and status could not only afford attend any type of higher education, but could use a valuable book for the purposes of fun. The first yearbooks proper, with student listings, weren't in used until the early 19th century at Yale (complete with silhouettes of the students since photographs hadn't been invented yet).
But, long before that so-called commonplace books were bound during the Renaissance period for students to serve as places to jot down important thoughts. Eventually these became more autograph books than study aids and a new tradition was born.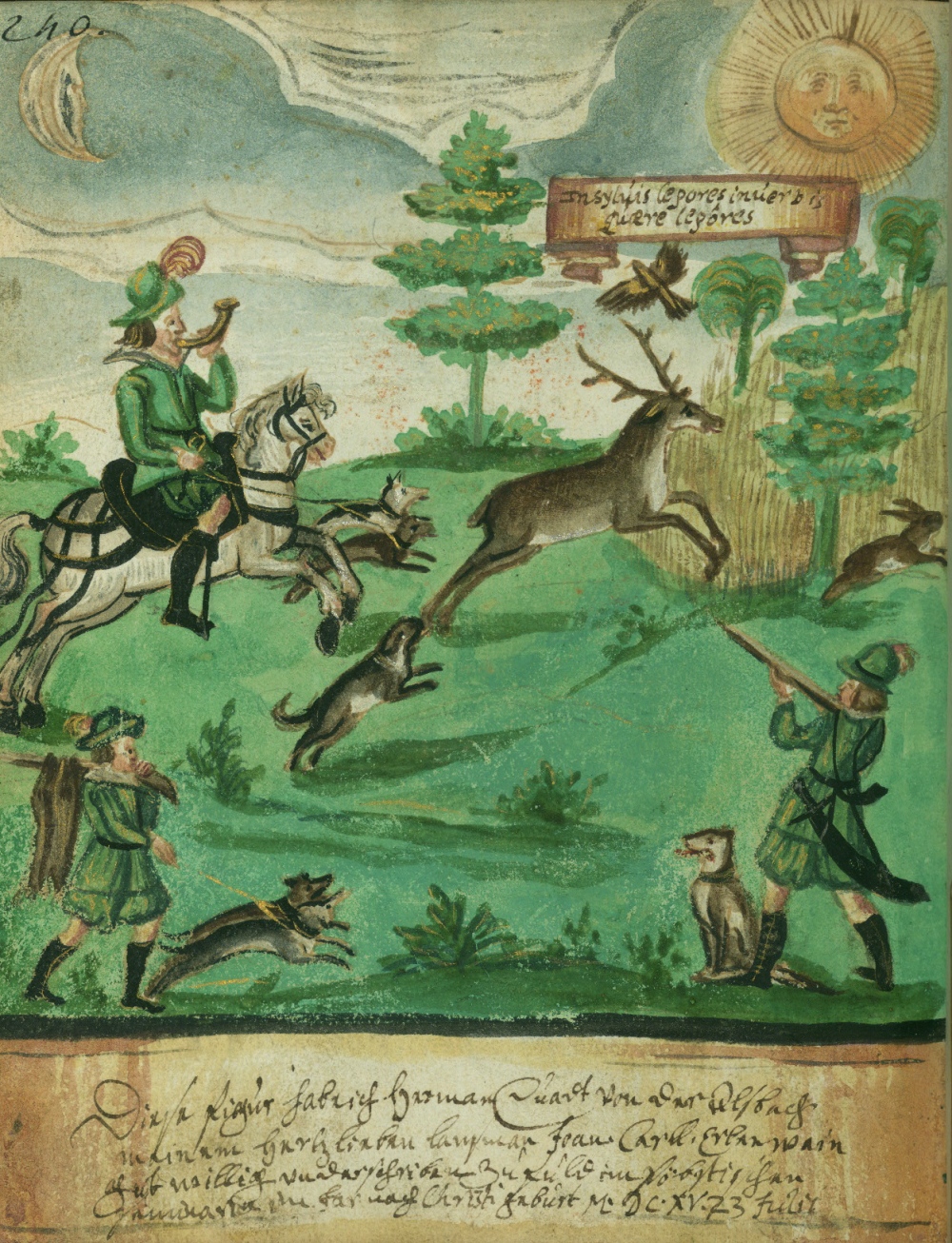 These books came to be receptacles of inside jokes, history, and annotations on academic subjects all in one. One of the jokes (or could you call it a meme?) within the book was a picture of a tree supporting four maidens.
Above the drawing is written "the women of the Saxon family tree". This style of family tree drawing was not uncommon at the time, but usually showed parents "harvesting" children from the tree and family names and lineages written below.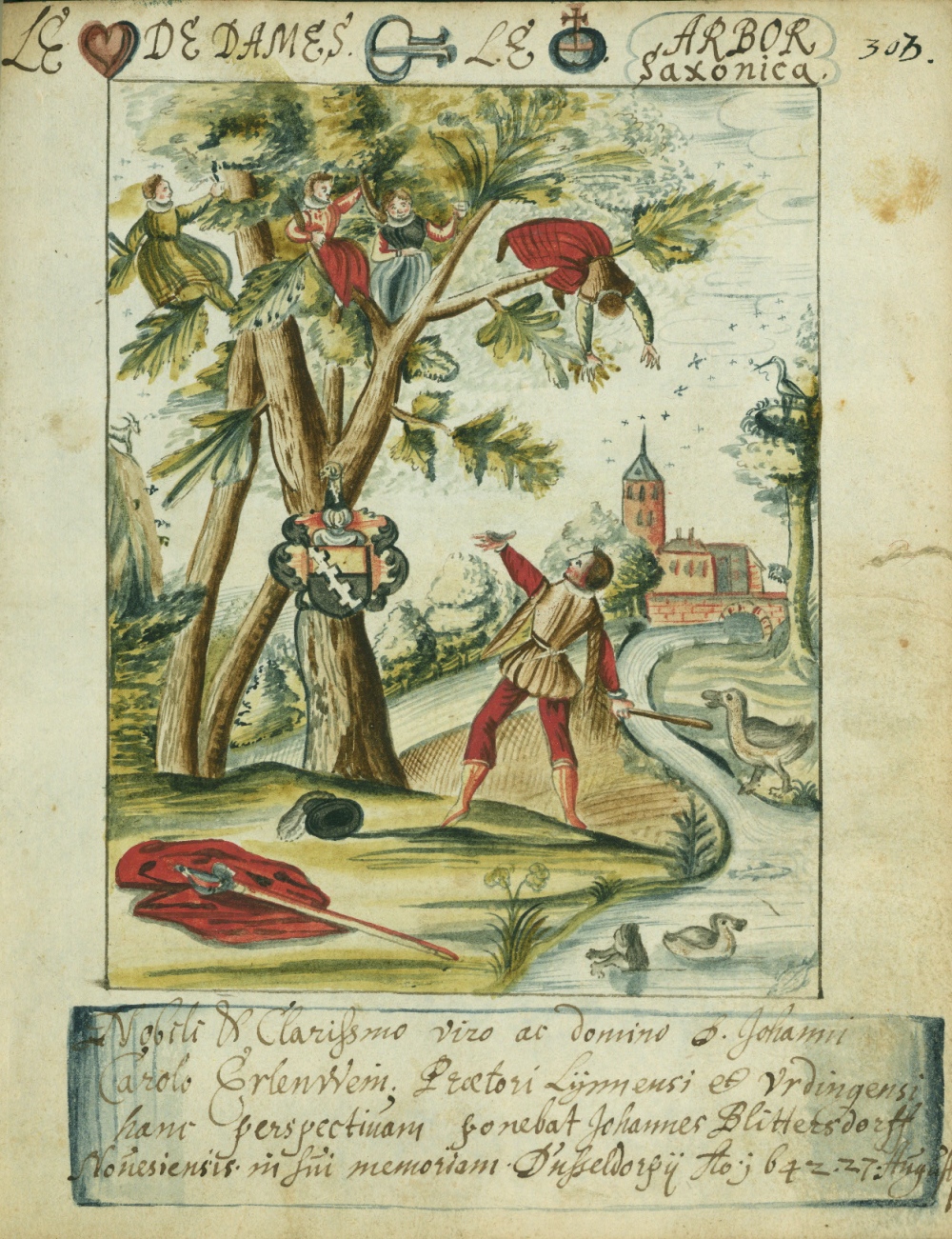 In this drawing as a woman falls it remains unclear if the man below will catch her. The tree bears a family crest of a noble household, a theme repeated throughout the book.
Erlenwein's friends often made colorful renderings of their family crests, which most would have had since they were born of privileged families.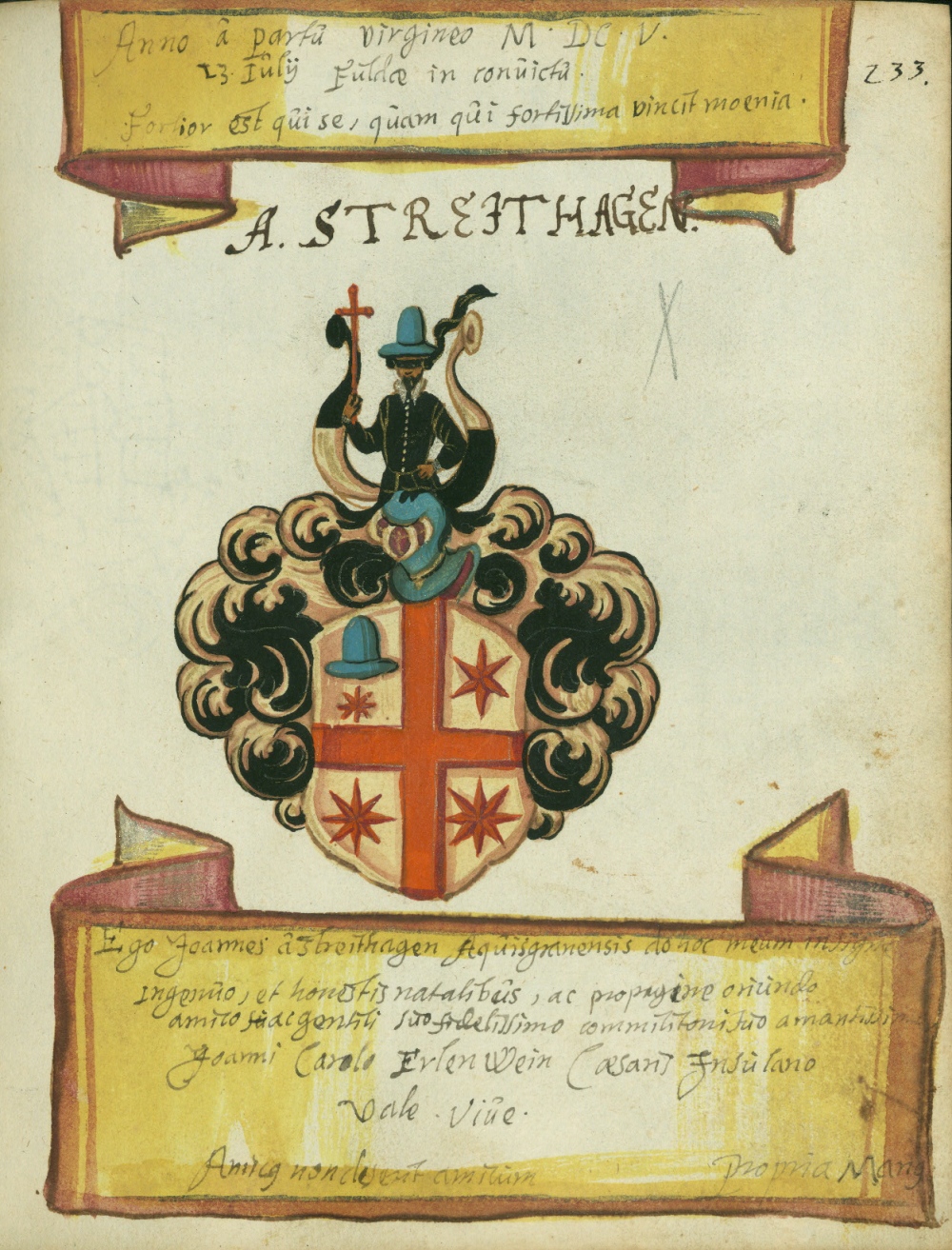 The elaborate drawings and jokes were a type of one-upmanship where each tried to out-do the last drawing or inscription. Despite being seminary students there is a detailed drawing of a pink-kneed Venus decorated with an inscription about love.
Another page was illustrated edge-to-edge with an illustration of the city of Fulda, complete with a numbered key pertaining to the buildings of interest.
In the case of Erlenwein's book it also served as a family tree since births, deaths, and offices held were recorded (presumably by his family) long after he had passed on. This means that the book served not only as a poetry text, but also as a yearbook, a joke book, and a book of genealogy. That's a lot for one volume to do.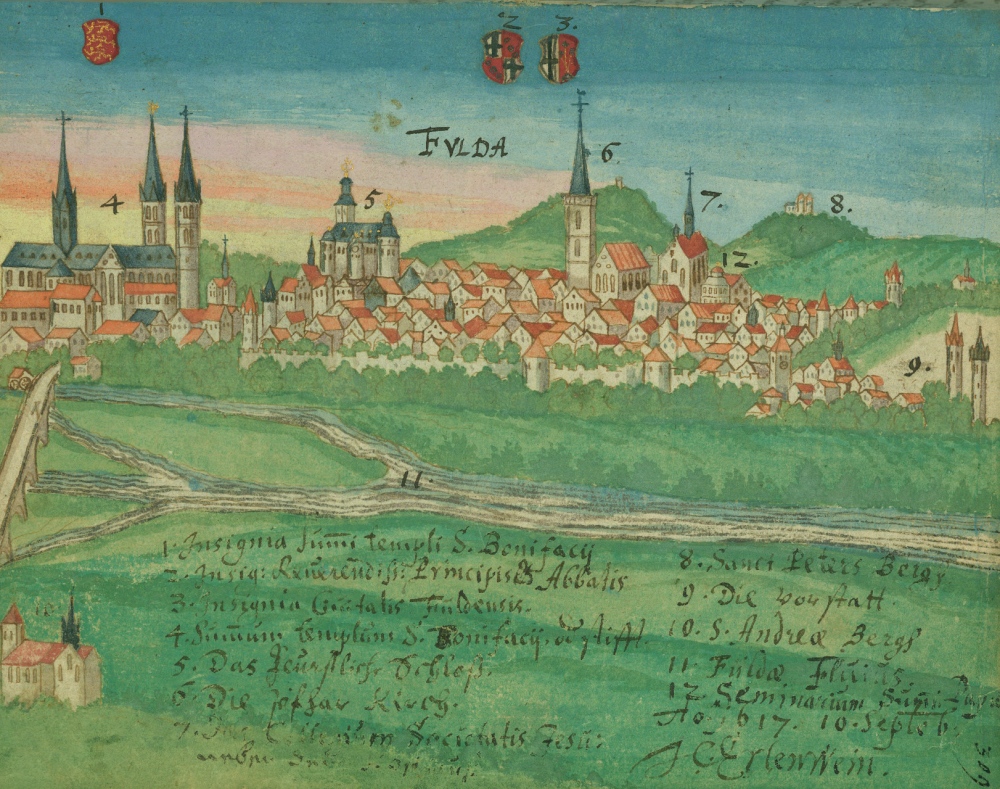 Today the book is in the collection of the Walters Art Museum in the Manuscripts and Rare Books department in Baltimore, Maryland.