Whatever happens, don't look down.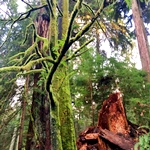 Jen Swanson
Few things have captured the world's imagination — and anxiety — as much as bridges. Some are rightly considered awesome feats of modern engineering. Others inspire travelers to hold their breath or spit in an effort to bring good luck. Still more promise legendary amounts of danger, including the abandoned railway track turned Siberian river crossing that's spawned a Facebook page for survivors. Read on for our picks of the world's 12 most dangerous bridges, and whatever happens, don't look down.
12. Trift Bridge, Switzerland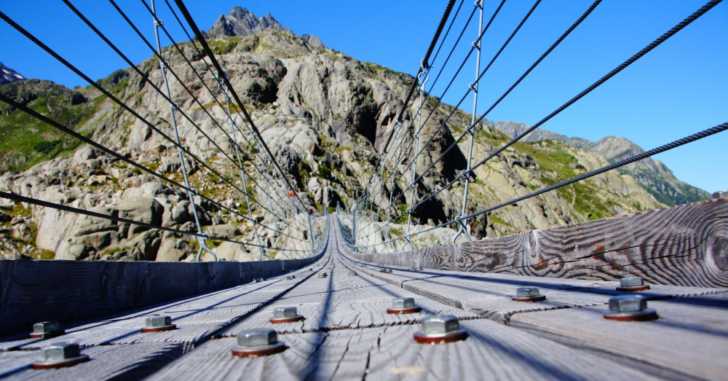 Perched 328 feet above a pristine glacier valley, Switzerland's Trift Bridge is considered, at 558 feet in length, to be one of the Alp's longest suspension bridges. The bridge is modeled after a Nepalese three-rope bridge, albeit with sturdier metals to transport the thousands of travelers who traipse through this stunning Alpine region each year.
Which iconic bridge is just minutes from Vancouver?
11. Capilano Suspension Bridge, Canada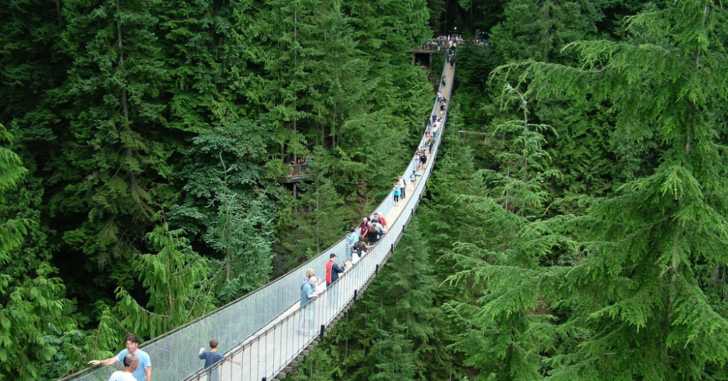 Just 15 minutes from downtown Vancouver, this 450-foot long bridge rises 230 feet above its namesake river inside a 27-acre park. The bridge has been one of Vancouver's top attractions since its original construction in 1889, though the surrounding old growth rainforest has been more recently equipped with a panoramic cliff-walk and series of seven suspension bridges held up by 250-year-old Douglas Firs.
Which Russian crossing is so dangerous it's spawned a Facebook group for survivors?
10. Vitim River Bridge, Russia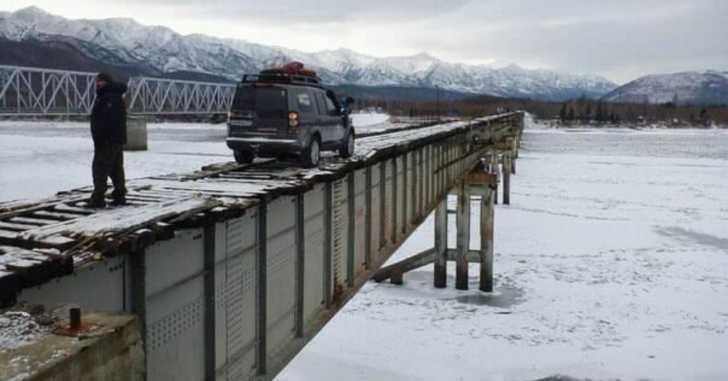 This 1,870-foot-long remnant of an old Siberian railway is used to cross Russia's Vitim River, though the narrow steel track hasn't seen a single repair since its initial construction back in the 1980s. The lack of guard rails adds additional peril, particularly as the rickety wooden planks freeze over in winter months, leaving drivers to creep ahead on the ice with their windows down to avoid being blown into the frigid waters below. Summer months offer relatively less danger, though drivers should allot some extra time for this portion of the journey and bring some extra tools. This bridge is in such bad shape that drivers generally have to make some repairs before they can embark on this dangerous journey.
Why should travelers approach the world's long teakwood bridge with caution?
9. U-Bein Bridge, Myanmar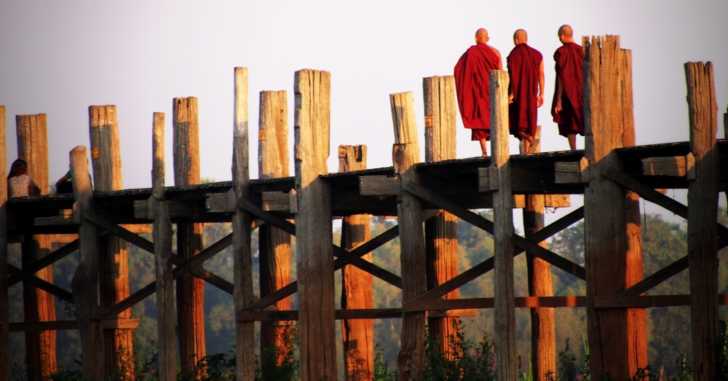 The world's longest teakwood bridge isn't steep per se, but it was built circa 1850, so the 1.2- mile thoroughfare doesn't feel entirely equipped to safely transport the hordes of locals and tourists who cross it each day. Some of the bridge's 1,086 pillars are decaying so badly that they've been replaced by concrete; others are missing entirely, lending the entire structure a matchstick-like quality that feels like the smallest breeze could bring the whole thing crashing down.
Which foot crossing is so harrowing that animals require blinders?
8. Ghasa, Nepal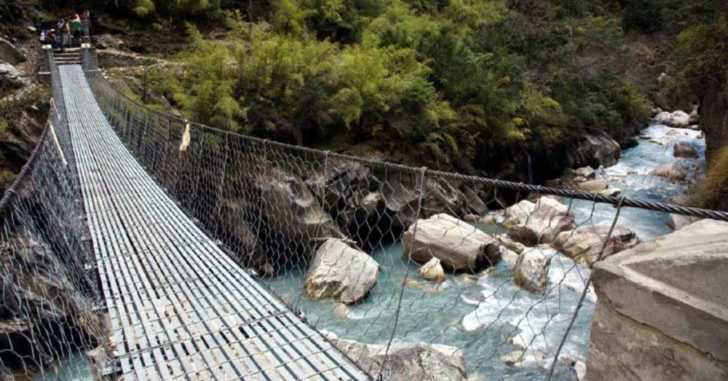 Traveling in Nepal always involves an element of risk and this wobbling 1,128-foot bridge is no exception. Rising 443 feet above a creek bed nearby a town of the same name, this bridge was originally constructed to move cattle between villages. Today, animals are still the most frequent travelers, though shepherds often outfit the herd with blinders to keep the animals from panicking.
Why has tourism dipped at Ghana's signature canopy walk?
7. Canopy Walk, Ghana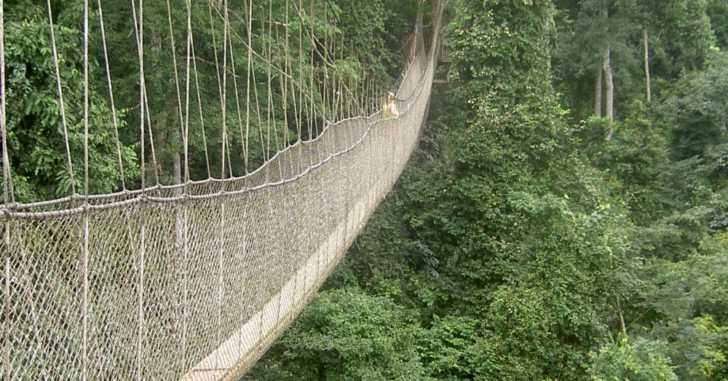 Bisecting the rainforest canopy inside Ghana's Kakum National Park, this narrow rope bridge is one of the best ways to get up close to the monkeys, birds, and butterfly species that call this rainforest home. Despite it's rather wobbly appearance, over 100,000 visitors still brave the park's signature attraction each year, though those numbers have dipped in recent years owing to the construction of a newer canopy walk in a nearby park and the growing dereliction of the main road, which has doubled the amount of time it takes travelers to reach the 145-square-mile national reserve.
Which U.S. bridge is often accompanied by high-wind warnings?
6. Mackinac Bridge, Michigan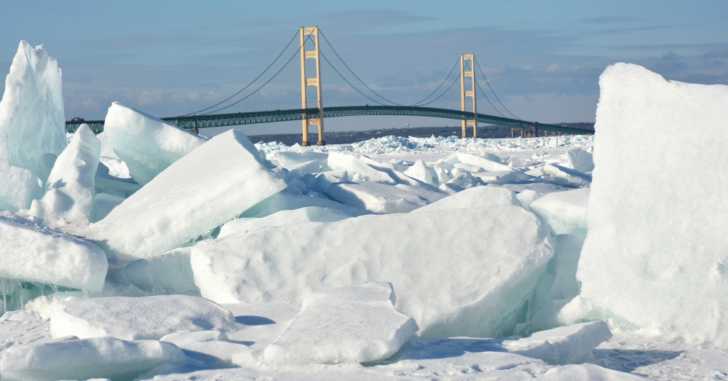 Extending nearly 5 miles in length, Michigan's Mackinac Bridge is nicknamed the "Big Mac" for good reason. Unfortunately, the Western Hemisphere's longest suspension bridge also involves an element of danger, owing both to its accumulating age and Michigan's notoriously winter weather. Here high wind warnings are par for the course, frequently downgrading traffic to a slow crawl, while healthy snowfall and hurricane-strength gales have pushed at least one vehicle into the waters below.
Which rickety bridge just barely survived a monsoon?
5. Hussaini Hanging Bridge, Pakistan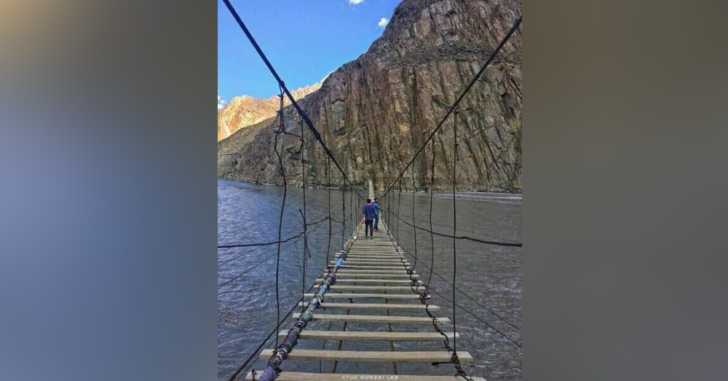 For a while, the fate of North Pakistan's Hussaini Hanging Bridge was somewhat uncertain, owing to rumors that the famously unsteady footbridge had vanished in a recent monsoon. A 2017 photo posted to a Facebook page maintained by survivors of the infamous overpass put those rumors to rest, however, even though traversing the rickety wooden planks still involves a huge element of risk.
Which U.S. bridge was the world's highest until 2001?
4. Royal Gorge Bridge, Colorado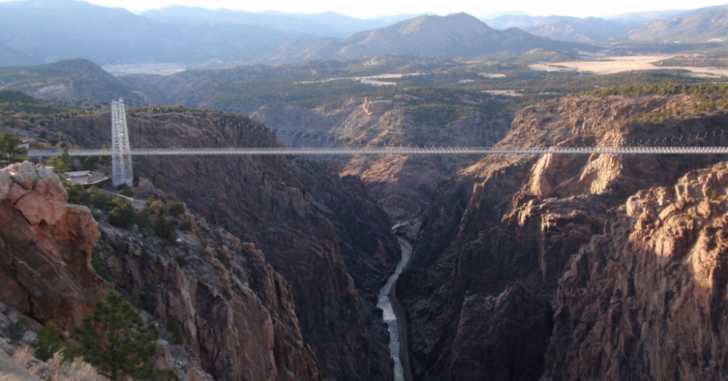 Rising 955-feet above the Arkansas River, this soaring suspension bridge isn't unsafe as much as its just plain scary. It was the world's highest bridge from its construction in 1929 until 2001,
when that title was usurped by the Luiguanghe Bridge in China. For the next two years, the 1,260-foot long bridge consoled itself on merits of being the world's longest suspension bridge, though that title was relieved in 2003 by another bridge in China, which has clearly incorporated structural engineering into its ongoing building boom.
Which South American bridge is rebuilt every year?
3. Qeswachaka Bridge, Peru
The Incas were easily South America's, and possibly the world's, most advanced empire in the 16th century, though today just a few examples of their famed engineering remain. One of those is the Qeswachaka Bridge, a 188-foot long footbridge handcrafted from braided grass 60 feet above the Apurimac River in Peru. Every year, the entire village chips in to help with renovations: re-braiding new ropes which are in turn braided into larger cables, then christening the newly revamped structure in an annual opening ceremony.
Where were bridges once made entirely of vines?
2. Iya Kazurabashi Bridge, Japan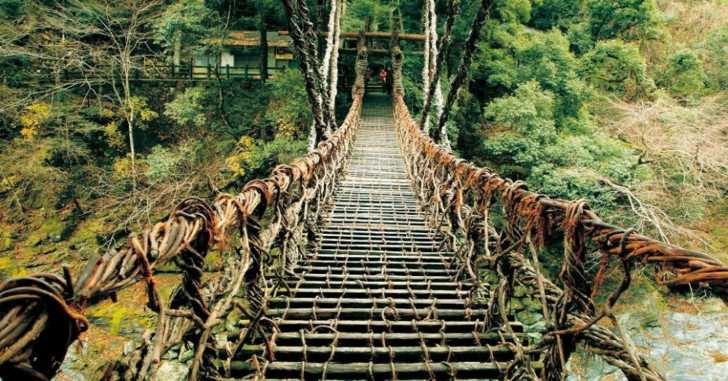 Vine bridges were once the primary means of crossing Japan's Iya Valley, a remote area of almost vertical slopes and rocky mountain gorges. Today, only two of the area's 13 vine bridges remain, dubbed the "husband" and "wife," or couples bridges, for their close proximity. And while the modern experience is very much that of walking along a tightrope, modern standards have compelled Japanese officials to wind a metal wire throughout the vines to keep these old-growth bridges up to code.
Which walkway actually delights in terrifying visitors?
1. East Taihang Glasswalk, China
https://youtube.com/watch?v=uz5nJX3sbbM
Eighty-one of the world's 100 highest bridges are in China, making this country less than ideal for travelers suffering from a fear of heights. This blizzard of viaducts also includes the world's longest bridge; the world's longest and highest glass-bottomed bridge; and a 34-mile sea bridge nicknamed the "umbilical chord" for connecting Hong Kong, Macau and Mainland China. Regardless, China won't rest until it also boasts the world's scariest bridge, a feat it achieved late last year in China's Hubei Province. Thousands of feet above a rocky clifftop gorge, East Taihang Glasswalk's dizzying location is already terrifying in its own right. Meanwhile, some audio/visual trickery is giving visitors the fright of their lives. Watch how it happens in the video above!