The Vintage Crochet in Our Lives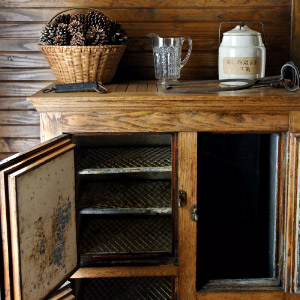 Dusty Old Thing
Hello again! This is Nancy with Dusty Old Thing.
It's been a stormy day in the Mid-West. Many of us have had the Weather Channel on for a good portion of the day, or have been consulting our mobile devices for updates on where storms are heading. It made me realize how, in the old days, if my mother or grandmothers had sat down for almost any reason at all, they picked up a crochet project. My grandmother may have picked up some quilting blocks, too, or done some applique or embroidery. I was taught early to crochet and to not sit down without a project. The latter lesson got lost somewhere between books, TV and the iPad.
Many of us had mothers and grandmothers and great-aunts who crocheted. Sometimes the men in the family it up, too. Trims were made for bed linens and dresses and blouses. Blankets and baby clothes were made for new arrivals. Sometimes sweaters, shawls or whole dresses were made with a hook and yarn. Doilies became fashionable sometime in the early 20th century. Bedspreads and tablecloths and even curtains were prized and their construction may have taken years.
Below are some of the works of crochet done by my mother and grandmother. My mother's crochet is of constant interest to me because she was a career woman. She did not sew, except for maybe a button or two. She did not cook extensively either. But she could crochet. She took small projects with her to work and crocheted on her lunch break or while waiting for the bus. At home she crocheted after dinner, somehow, while we watched Wagon Train and Maverick and Walter Cronkite and the University of Dayton basketball games. She made the bedspread, below, during World War II—before I was born. She worked for the Air Force at Wright Patterson AFB. It was a tense time. She told of how co-workers got messages while at work of the death of a husband or son. She worried about my Dad who worked in a munitions plant. She worried about a brother "flying the Hump". When I look at the bedspread I think of all those things.
My grandmother, probably early in her marriage, made the coasters in the center of the photo above. (The four in the corner are Swiss lace from the 1960's.) The stitches she made are tiny and there are subtle differences in the forms she used. I remember her crocheting without official patterns. She seemed to have the techniques embedded in her fast moving hands.
We still use the coasters today, but do put crystal coasters over them. Only a few drops of "sweet tea" from probable family reunions have dotted their edges. I know that they sat at the upper right hand corner of each place setting for the great-grandparents I never knew…and "the preachers" who came during "meetings" and teachers who rode horseback or drove buggies and doctors who came long distances during the Spanish flu and who stayed overnight "in the parlour".
All the women on both sides of my family made crocheted edgings for both pillowcases and sheets. They could turn out a set for pillowcases over a weekend. Some pillowcases also got embroidery. Today I still have a box full of old edgings done during the Depression or the 1940's. I can just imagine how they did them while sitting on the porch in good weather, or near a window in bad. I can imagine the stories, the tales, the hushed gossip.
As everyone who follows Dusty knows, the antiques and vintage "things" have value for us mainly in the stories they convey, in the lessons their creation convey, in their place in our collective material culture.
There's a grace to it all.