Mom at 15, nurse at 25, addict & ex-con at 37…LAWYER at 40
"Good morning and may it please the court," said the convicted bank robber to the Supreme Court Justices.
So began the hearing that would determine whether Tarra Simmons – mother at 15, licensed RN at age 25, convicted felon/admitted addict by age 37 and graduate of the Seattle University School of Law at age 40 – would be allowed to sit for the Washington State Bar Examination and join the ranks of professional lawyers.
To be fair, the matter was complicated: The justices had to consider Tarra Simmons, the convicted felon, who'd spent 20 months in prison after a series of felony drug and gun convictions.
The justices also had to consider Tarra Simmons, she of the decorated 11-year career as a Registered Nurse. Then, there was the 15-year-old-teen-mother-from-a-broken-home Tarra Simmons to consider.
Above it all, the justices considered Dr. Tarra Simmons, the woman sitting in front of them last Thursday.
This version of Tarra Simmons — Dr. Tarra Simmons, JD to be accurate — had recently graduated summa cum laude with a Juris Doctorate from the Seattle University School of Law.
The decision was quick, unanimous and distributed via a Washington Supreme Court Same-Day order: Tarra Simmons would be allowed to sit for the Washington State Bar Examination next February. For the first time in over 30 years, the state supreme court had issued a public ruling regarding the moral character and fitness of a bar applicant, and they had ruled in favor of Tarra Simmons.
When Simmons successfully passes the State Bar – and no one familiar with her story would expect anything less — she'll bring to a close a story of both great triumph and searing personal tragedy unlike anything you've read before.
A decade of grief, loss and disaster
After surrendering her nursing career to care for her father, Simmons is rocked by his unexpected death.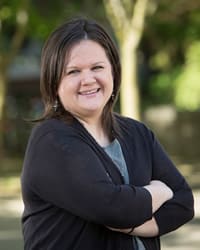 This story begins a decade ago with our hero drowning in heart wrenching grief and loss.
A registered nurse, Simmons put her career on hold in 2011 to serve as the caregiver for her beloved and ailing father. Shortly thereafter, her dad unexpectedly died, leaving Simmons without the support and structure provided by a nursing career and robbed of the love of her father.
"Yes, I was an RN for 11 years. But I was also a mother by age 15. Throughout it all, I was dealing with the effects of a dysfunctional childhood," Simmons said.
Unable to process the shroud of grief that encompassed her, Simmons lost the hope for a better tomorrow.
"In order to cope with depression after the loss of my father, I became addicted to drugs. I abused drugs and ended up incarcerated as a result."
The years that followed were a devastating spiral of chaos and addiction. Her descent followed a path familiar to anyone who has struggled (or watched someone they love struggle) with addiction: Initially, the career went. Then, the money. Then came the charges. First, there was the possession bust, caught with a little bit of weed. Next came the bust for smalltime dealing — possession with intent to sell. After that, a firearm charge.
The charges piled up and led to convictions. The convictions turned to sentences. The days turned to months and the months turned to years as Simmons was ultimately sent away on a lengthy prison bid – the result of several felony drug and firearm convictions.
Fast forward to 2013. After 20 months in prison, Simmons emerges from the system a free woman. Or, free only inasmuch as a broken, penniless, unemployed woman burdened by societal labels like "convicted felon", "addict" and "criminal" can be.
Some rehabilitation system, no?