What a beautiful love story that continues almost half a millennium later!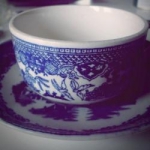 Rose Heichelbech
Iain and Sheila Gunn live in Lancashire, UK and have been metal detecting for over a decade. 3 years ago they found one part of a 450-year-old ring with an inscription on the inside of the band. Amazingly, the couple then found the other half 3 years later while detecting in the same area again-despite the field having been disturbed by plowing! In a romantic twist, the couple finally discovered what the inscription on the ring is. What a beautiful sentiment and a wonderful piece of history! It's like a love story unfolding over hundreds of years.
The Gunns have now donated the ring to the South Ribble Museum. How lovely! And, that's not all the lucky couple have found. Back in 2010 the Gunns found a 600-year-old silver brooch as well. Have a look at their special find and see what the secret message is in the video below. And, if you love antique jewelry then check 100 years of engagement rings right here.
https://www.facebook.com/plugins/video.php