This jewelry isn't like other pieces from the era…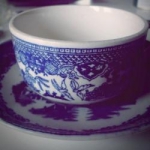 Rose Heichelbech
The magic of vintage costume jewelry transcends the decade, despite whichever fashion trends are happening at the moment. From Art Deco camphor glass to Bakelite, there's just something about vintage jewelry that is appealing to women of all ages. And, that is especially true for rhinestones.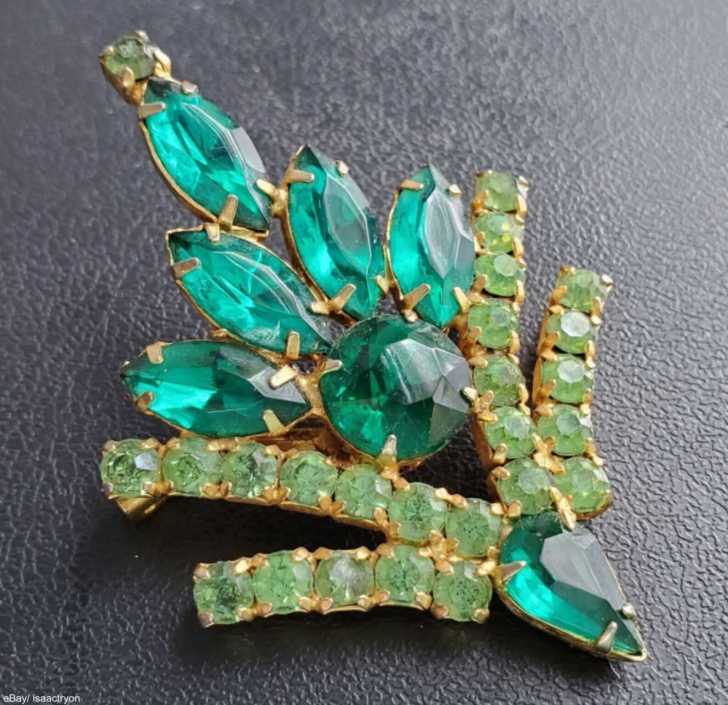 The sparkle they give off simulates and even exceeds some of the best cut diamonds in the world. If you love this type of costume jewelry then we bet you've already seen (and fallen in love with) this brand of costume jewelry from the 1940s-60s even though you may never have known this company's name.
How Are D & E Pieces Different Than Other Costume Jewelry?
Beginning in the 1960s the Juliana line of jewelry was sold in department stores, all glitz and glamor for the woman of modest means. This was back in the days when women really dressed up, so they showier the better in most cases. A simple dress could be instantly made into an ensemble worthy of a night on the town and this is the beauty of costume jewelry.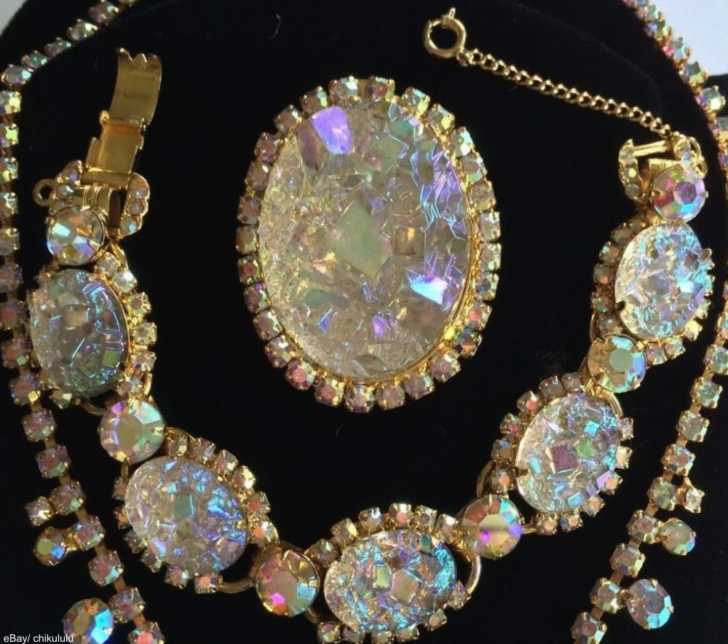 By today's standards, the sets that were offered would be far too flashy. A brooch, earring, bracelet, and necklace all dripping with brightly colored rhinestone jewels would be a stunning combo, but not many women today would wear all those pieces at once.
The company that made the stunning Juliana pieces was the enterprise of Frank DeLizza and Harold Elster, manufacturers of various small items like buttons and buckles. They were also contracted to manufacture jewelry for several well-known brands many years before creating their own line.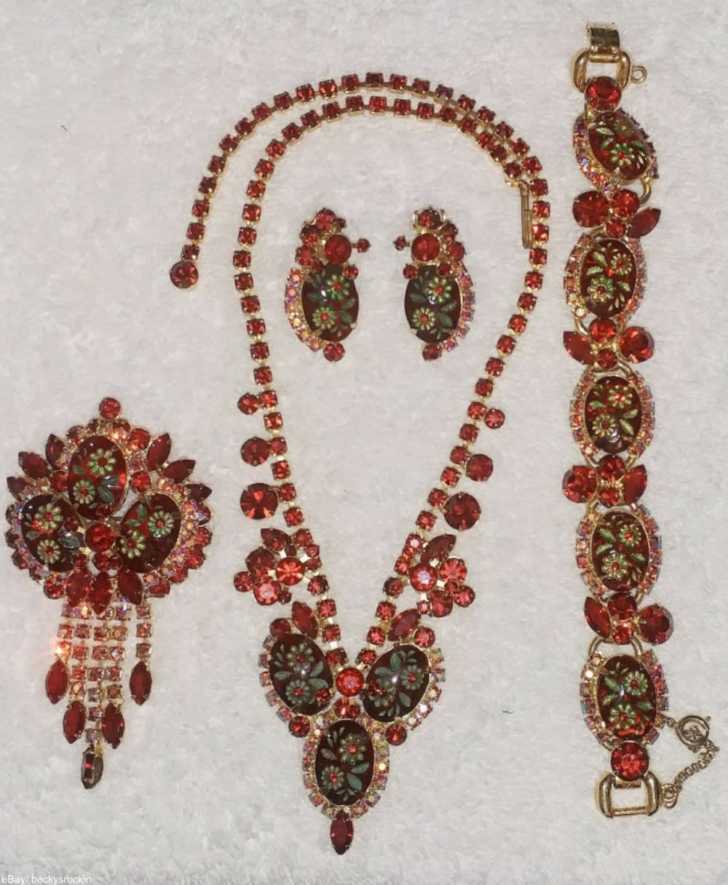 The pieces were labeled only with paper tags, so they can be hard to identify concretely. But, the Juliana line, also known as D & E for the two men who made the pieces, was only in production for a few years. And, the designs were unlike anything else from the era.
The colors were far more saturated than many of the brand's competitors, and the number of designs they made in that short time was limited. These factors can help you in determining whether a piece is D & E or not. There is also a helpful sitewhere you can search by style, color, and even find out information on pieces that were manufactured by D & E for other companies (like Avon, Weiss, and other brands).
What Is Their Value?
As far as money goes there can be a wide range of prices for these shiny little numbers. The earrings on their own, all if which nearly all are the less-popular clip-on variety, can sell for as little a dollar or twoand go up to sell for $30 at the higher end.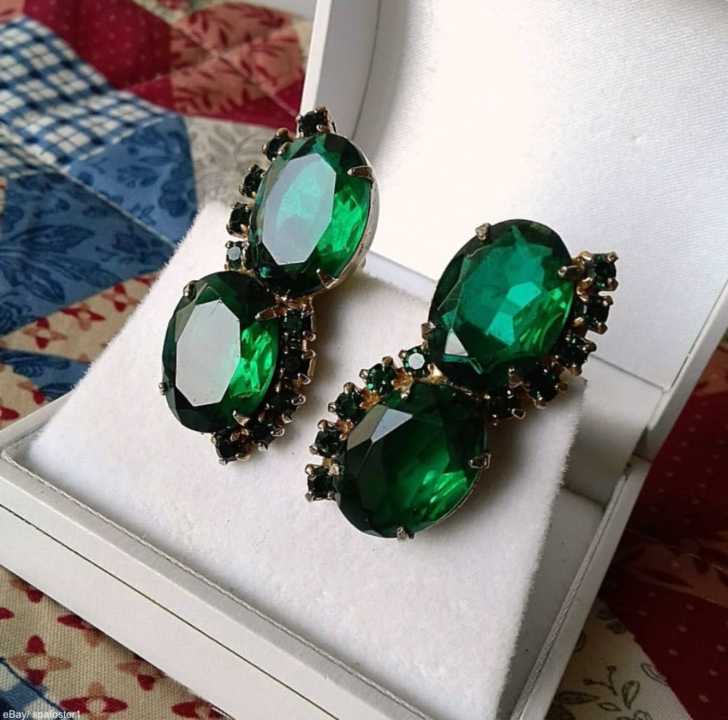 Brooches can sell for up to $100, which is far more than many similar pieces of the era usually sell for.
The most value is in mint condition sets as these can go for hundreds, even thousands of dollarsin the right market. Collectors of Juliana/ D & E will pay more for good-condition pieces than someone who is less concerned with the maker of the pieces in their collection.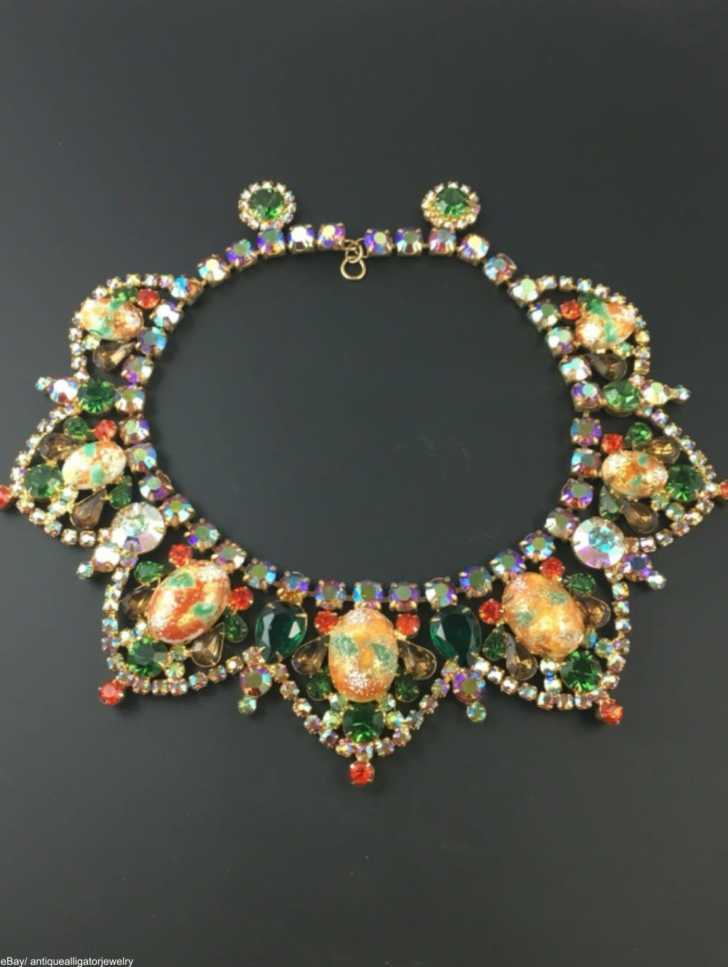 Even an exemplary necklace on its own can sell at a high price. The Aurora Borealis "Easter Egg" (seen above) necklace was appraised on Antiques Roadshow season 18 for between $800-$1000. However, that same model of necklace has been sold on eBay for only $267. However, the same necklace as part of a set has an asking price of $1,400 on a different site. All this just goes to show: it's all in where and when you sell an item that determines its sale value.