There's nothing like Grandma's cooking- even if it's not your own grandmother!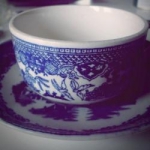 Rose Heichelbech
Restaurant owner Jody Scaravella employs grandmother's from around the world to give this eatery a special taste, each of the them bringing a new flavor to the menu every night. There's always one Italian grandmother in the kitchen because he's Italian and started the restaurant as such. But, the concept evolved into a place where you can get a meal made with love. If you think you ever outgrow your grandma's cooking then think again! The popularity of this restaurant, Enoteca Maria, is proof that you don't!
Enoteca Maria employs grandmothers from Palestine to Bulgaria and Sri Lanka and all over the world in order to give everyone a chance to feel connected to their grandmothers. Have a look below at this wonderful concept in the video below. And, be sure to check out the foods our grandmothers always made from scratch right here.