Watch one of the few women in showbiz who could tap as fast as Fred Astaire!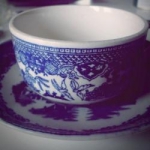 Rose Heichelbech
We all know Fred Astaire is one of the masters of dance. But, pair him with the great Eleanor Powell and you get one heck of a performance! Powell first got noticed on the boardwalk in Atlantic City and danced in clubs and on Broadway until she was discovered by Louis B. Mayer of MGM Studios. She danced in films from 1935 to 1943 and became known for her solo dance routines. But, here we get a rare glimpse of her and Astaire dancing together and it is pure magic.
He asks her to show him a dance routine again and there's no stopping them from there! Some have said that Eleanor Powell was the only female tap dancer who could actually keep up with Fred Astaire. He sure does seem to be enjoying the challenge in this clip from Broadway Melody of 1940. Have a look below. And, to see more of Eleanor Powell's incredible dancing click here.