We're still a bit unclear on the steps, though!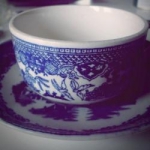 Rose Heichelbech
Unlike the Twist or the Mambo, this dance apparently never quite caught on as a national dance craze. This clip performed by Mindy Carson in 1955 shows her doing the Fish at every chorus to the song of the same name.
The b-side of this single was "Bring Me Your Love" and was released the same year as one of her biggest hits, "Wake the Town and Tell the People." But, the Fish remains a curious song and dance because they never really made a splash (pun intended). It's interesting that in this song mentions rock & roll because Carson usually sang jazz standards and love melodies. Only a few short years after this song was released, rock & roll would take the nation by storm and dances like the Wah Watusi and the Swim would become the newest crazes. Check it out in the video below. And, if you enjoyed this click "Next Page" after the video for a look at another animal-themed dance from the era!